About Jagadguru Kripalu Parishat
Jagadguru Kripalu Parishat (JKP) was previously known as Sadhana Bhawan Trust. It was established in 1972 by Jagadguru Shri Kripalu Ji Maharaj and continues to run under the leadership of the three appointed Presidents, Sushri Dr. Vishakha Tripathi Ji, Sushri Dr. Shyama Tripathi Ji and Sushri Dr. Krishna Tripathi Ji.
जगद्गुरु कृपालु परिषत् (JKP) को पहले साधना भवन ट्रस्ट के नाम से जाना जाता था। यह 1972 में जगद्गुरु श्री कृपालु जी महाराज द्वारा स्थापित किया गया था और अब यह तीन नियुक्त अध्यक्षाओं, सुश्री डॉ विशाखा त्रिपाठी जी, सुश्री डॉ श्यामा त्रिपाठी जी और सुश्री डॉ कृष्णा त्रिपाठी जी के नेतृत्व में चल रहा है।
JKP is a non-profit, charitable, educational, and spiritual organization, dedicated to increasing spiritual awareness and helping those in need in society as a whole.
जेकेपी एक लाभ-निरपेक्ष, धर्मार्थ, शैक्षिक और आध्यात्मिक संगठन है, जो आध्यात्मिक जागरूकता बढ़ाने और पूरे समाज में जरूरतमंद लोगों की मदद करने के लिए समर्पित है।
LEARN about Shri Gurudev
LEARN about JKP Presidents
JKP Mission
TO TEACH AND SPREAD THE TRUE ETERNAL KNOWLEDGE OF THE VEDAS in the simplest form, and to guide and inspire seekers to attain their true goal of God-realisation.

TO ORGANIZE SPIRITUAL CAMPS AND RETREATS that demonstrate practical devotion to spiritual aspirants.

TO ESTABLISH, OPERATE AND MAINTAIN CHARITABLE PROJECTS for deprived communities in rural villages in both educational and medical fields.

TO CONDUCT VARIOUS PHILANTHROPIC AND HUMANITARIAN ACTIVITIES to meet the immediate needs of the poor and the needy in the society.
Annual Sadhana Shivirs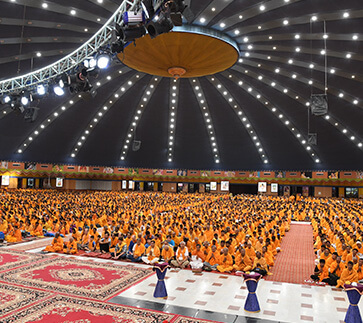 Bhakti Bhawan Sadhana Shivir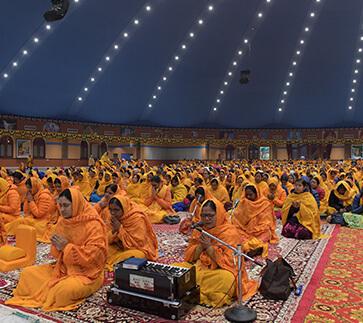 Prem Bhawan Sadhana Shivir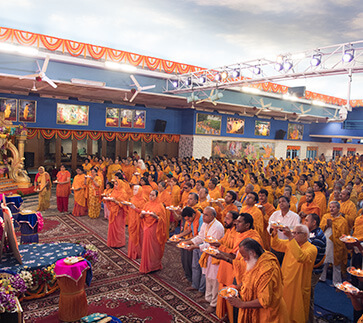 Rangeeli Mahal Sadhana Shivir
Sadhana Shivir is a devotional camp in which the devotees disconnect themselves from their regular worldly duties and responsibilities and isolate themselves to practice absorbing their mind in the comtemplation of God, and to perform service to God and Guru. These devotional camps are held twice a year – the annual month long sadhana program during October-November and the two-week long spring sadhana program held in March. Shri Maharaj Ji's discourses are played multiple times during the day to reinforce spiritual knowledge and the key concepts of devotional practice. Devotional plays are performed by devotees depicting pastimes of Radha Krishna. Hindu festivals such as Divali, Holi, Chaitanya Mahaprabhu Jayanti, Govardhan Pooja, Sharad Poornima are celebrated during the sadhana program. Medical camps and health camps are also organised during the camps.
Watch Videos
Philantrophic Efforts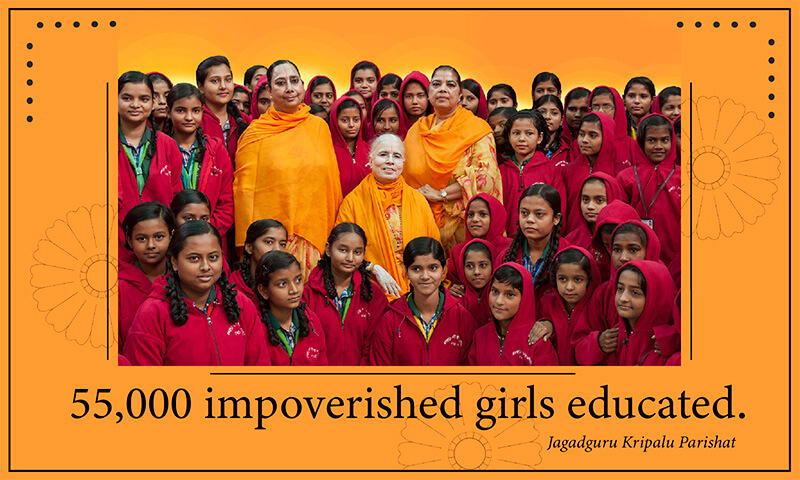 Jagadguru Kripalu Parishat Education
Providing education to impoverished Girls in India
Know More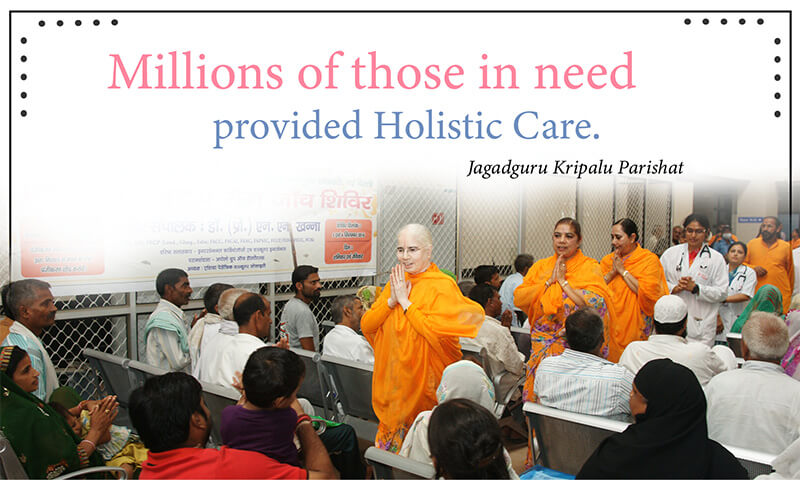 Jagadguru Kripalu Chikitsalaya
Providing Holistic medical care to those in need
Know More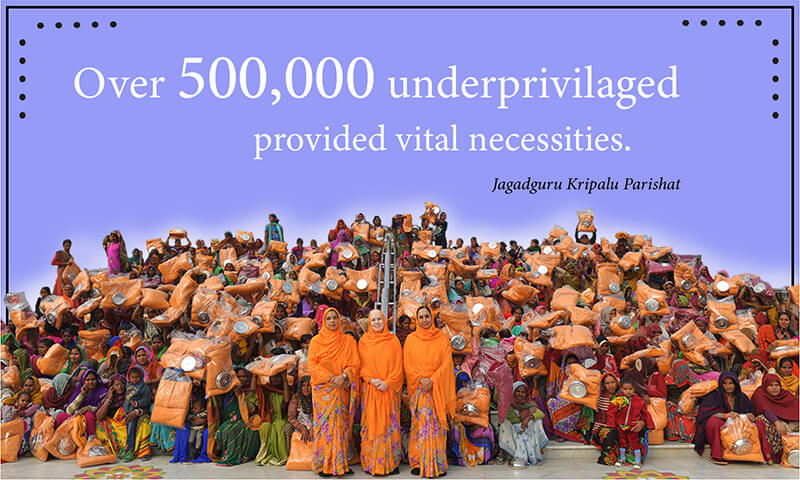 Poor Relief Fund
Providing various social, philanthropic and humanitarian activities to provide relief to those in need through distribution activities.
Know More
In addition to engaging in devotional practice, Shri Maharaj Ji teaches and encourages devotees to perform physical and monetary service. Majority of people who have dedicated their lives to Radha Krishna devotion engage themselves in voluntary service at the JKP ashrams. These include doctors, nurses and other hospital staff who render their services voluntarily at Jagadguru Kripalu Chikitsalaya (JKP Hospitals). Also, many devotees volunteer their time to serve in other ways such as office, cleaning and management.
Vedic Knowledge
During his divine presence on this earth planet, Jagadguru Shri Kripalu Ji Maharaj used to deliver series of public speeches, where thousands of people used to gather to listen to His divine teachings. He used to simplify even the most perplexing knowledge from the scriptures with great ease and clarity, and disclosed the guidelines to everyone on how to attain their ultimate goal of human life. The ease with which He used to narrate quotations from the scriptures, along with their chapter and verse numbers, supporting the concepts that he was explaining, was incredible. Recordings of his public speeches are now broadcasted daily on TV and regularly on facebook.com/Jagadguru.Kripaluji.Maharaj.
Know More
Accomplishments
JKP has continually expanded to cater for the spiritual needs and the social welfare of mankind at large. Since its foundation JKP has:

ESTABLISHED FOUR MAIN ASHRAMS
Bhakti Dham – Mangarh, Shyama Shyam Dham – Vrindavan, Rangeeli Mahal – Barsana and Radha Govind Samiti Golok Dham – New Delhi. All four ashrams are actively involved in various spiritual activities for the welfare of spiritual aspirants. Throughout the year, these ashrams conduct various philosophical discourses, devotional chanting, spiritual camps and retreats, and also organise celebrations of various festivals.
Learn more about our Ashrams

ESTABLISHED THREE 100% FREE HOSPITALS
These hospitals are in North India and are equipped with modern technologies, where all medical treatments, hospital facilities and required medications are provided free of cost to each and every patient. In addition, free medical and health awareness camps are conducted regularly. JKP also provides financial aid, medicines, and emergency medical services as and when required.
Learn more about our Hospitals

SET UP A 100% FREE SECULAR EDUCATIONAL INSTITUTION
JKP runs a 100% free secular educational Institution to enhance literacy and provide quality education to the deprived. The Institution has three levels – primary school, intermediate college and a university, where all students receive their education completely free, and also receive free uniforms and other school related requirements.
Learn more about JKP Education

COORDINATED FREE DISTRIBUTION PROGRAMS
JKP coordinates various social, philanthropic and humanitarian activities to provide relief to the poor through free distribution programs, including distribution of hand-driven tri-cycles, clothing, blankets, food, etc.
Learn more about our distribution programs

FUNDED NATURAL RELIEF PROGRAMS
JKP also raises funds to contribute in national relief programs which provide emergency aid to victims of natural disasters and tragedies.