Guru Dham Mandir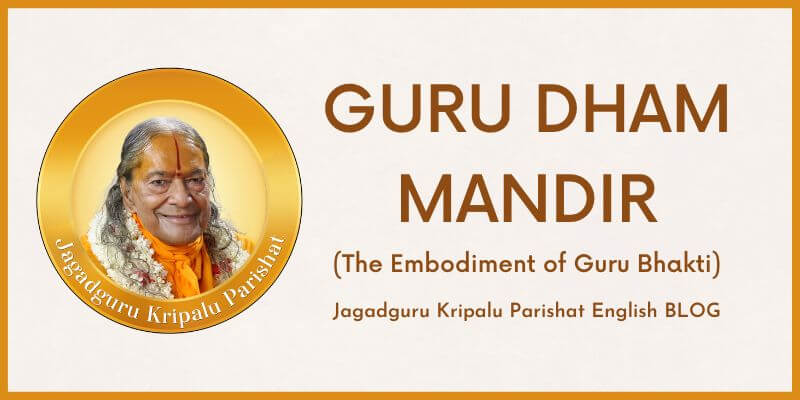 GURU DHAM MANDIR
(The Embodiment of Guru Bhakti)
Two years ago, a new hope rose for all those walking on the path of Bhakti, as an embodiment of Guru Bhakti was to take shape. Through the years, we have seen millions of devotees show extreme love for their Guru. The Vedas tell us that the Divine Saint is even greater than God as he is the one who brings us close to God. He gives us knowledge, he guides and inspires us and he protects us while we walk on the holy path. No matter what we do, we will not be able to ever repay him.
To express gratitude for the countless deeds of their Guru and father Jagadguruttam Shri Kripalu Ji Maharaj, Sushree Dr Vishakha Tripathi Ji, President of Jagadguru Kripalu Parishat made an auspicious resolution in January 2014 to construct a temple – Guru Dham, Bhakti Mandir – that would eternally celebrate and symbolise his glorious life. With their relentless faith and devotion towards their Guru, this magnificent edifice stood tall in just six years. Dr Vishakha Tripathi's (lovingly called Badi Didi) vision was to establish a Mandir where all devotees could go to and with intense love in their heart honour Shri Gurudev and all that he has given to the whole world.
It had been the wish of all the devotees that such a holy temple be built. The Presidents of JKP, Sushree Dr Vishakha Tripathi Ji, including Sushree Dr Shyama Tripathi Ji and Sushree Dr Krishna Tripathi Ji, along with love and support of all sadhaks began this divine endeavour directly opposite to Bhakti Mandir, the place of Jagadguru Kripalu Shri Maharaj's divine birth.
Today, as we celebrate it's second Anniversary, we take you on a nostalgic journey towards its completion:-
10 May 2014
The sacred Bhoomi Pujan and Shilanyas Mahapuja ceremony took place on this day as thousands attended the ceremony. The Vedic scholars conducting the ceremonial rituals and the devotees were all immersed in the deep ocean of devotion hearing those soul-stirring incantations. Dr Tripathi Ji placed the sacred Shila in the centre of the foundation of the temple. All the sacred rituals took place as sadhaks' tears seemed to be never ending.
7 Apr 2015
In less than a year, the First Stone Foundation ceremony was held. The process of laying the first of the specially imported white marble stones from Italy began in earnest at 5 pm. Thousands sang "Radhe Govinda" as they were led by the Presidents to the sacred ceremony. Once there, sadhaks sang "Guru Kriplau Mam Sharanam" as a special pooja was held. Badi Didi held the divine dust of this holy land in her lotus hands and laid the stone. To further mark these moments, coconuts were broken as a symbolic act of submitting oneself completely to God and Guru.
5 Oct 2016
The First Pillar Installation Ceremony was held on this day. Dr Tripathi Ji placed a sacred thread around the pillar to begin the ceremony. Amid the blissful chanting of "Shri Radha Govinda," the first pillar of this divine monument was established. Today, a total of 132 pillars stand, some full length, some half, and others quarter length. Their most notable feature is that they are carved out of a single stone block and stand without any joint.
Locating suitable stone blocks was a challenging task, but all seemingly impossible tasks were done by the Grace of Shri Maharaj Ji. The carvings on the tops of the pillars are very distinctive, a living form of the artistic spirit of Didis. Such exceptional engravings on stone are not found in any other temple in the world.
26 Dec 2017
The First Roof Slab was placed on top of the temple, marking the most critical moment in this monumental endeavour. Our Presidents pushed the button on the crane station as it lifted the slab to the top of the temple. Dr Tripathi Ji sang out "Shrimad Sadguru Sarkar ki Jai" as everyone repeated and cherished the special moment. They also held on to it briefly as it moved upwards.
14 July 2018
The First Keystone Laying of the Dome was placed on the ceiling of the temple on this day. The ceremony began at 5 pm with our respected Didis offering their obeisance to Shri Maharaj Ji by performing Jagadguru Arati, followed by offering sandalwood paste and flower garlands to the stone slab as per the ritual. Amid Shri Maharaj Ji's resonant echo of "Radhe" and with the press of a remote-control button, the massive slab was raised to the temple's terrace by a crane.
Everyone watched the spectacle absolutely transfixed. Our respected Didis went up onto the temple's terrace to supervise its placement, an all-important part of the grand dome construction. Devotees with utmost love and affection recited the glories of Gurudev. "Jai Ho, Jai Ho Sadguru Sarkar, Balihar, Balihar" – All glories to you, my Gurudev.
6 July 2019
The Final Stone Laying Ceremony was conducted in the temple today. The final stone for Shri Maharaj Ji's divine monument was laid. Emotions were high as everyone knew that this meant that this holy temple would be opened soon.
17 July 2019
The Dome Kalash Installation ceremony took place on this day. It was the day after Guru Purnima, when thousands of devotees had gathered in Bhakti Dham to offer their heartfelt prayers at the lotus feet of their beloved master. The ceremony began with the divine chanting of the "Hare Rama Mahamantra," in the voice of Shri Maharaj Ji himself. All directions resounded with this auspicious rendering. It appeared as if Shri Maharaj Ji was invoking his own self followed by his characteristic Vedic incantation of swastivachan.
Sushree Dr Vishakha Tripathi Ji, Sushree Dr Shyama Tripathi and Sushree Dr Krishna Tripathi reached the pinnacle of the temple to place the first Golden Kalash. Flower petals rained down on this auspicious occasion as the temple in all its glory was revealed to the world. Devotees stood mesmerised, undeterred seeing the unparalleled and infinite beauty of the established gold Kalash on the white temple, despite the penetrating rays of the scorching sun. It is most probable that the sun itself wanted to come out in its glory to behold this grand event. It was a most memorable event.
5 July 2020
The Sanctum Kalash Establishment Ceremony with Shri Maharaj Ji's Divine Remains was held on this day. At 2 am on the auspicious day of Guru Purnima, our respected Didis laid 5 Gold Kalash, 3 small and 2 large, containing Shri Maharaj Ji's Divine remains in the central sanctum of Guru Dham. They lovingly performed pranam and arati followed by a parikrama with devotees, while singing, "Jaye ho mere Guruvar, Jaya ho mere Giridhar." Choti Didi recited the swastivachan, a mantra from the Rigveda and Manjheli Didi announced the name of the temple – Kripalu Vande Jagadgurum Bhakti Mandir. As this temple is an integral part of Bhakti Mandir, it was later named Guru Dham, Bhakti Mandir.
6 July 2020
The First stone of the Altar was laid by Dr Vishakha Tripati Ji in the central sanctum, on which she inscribed the auspicious swastika sign, a symbol of prosperity and good fortune, with her lotus hands, signifying her wish that the glorious fame of her Guru spreads in all four directions, She then lit the sacred lamp, Akhand Jyot, meaning the flame without a flicker, symbolising that the flame of her Guru's knowledge will enlighten all humankind. It was lit on the sacred place where Jagadguruttam Shri Kripalu Maharaj Ji's statue will be placed.
30 October 2020
The Installation of the Idols took place. This was one of the most important days in the history of Guru Dham when the beautiful life-like deities were installed.
6 Mar 2021
Just a week before the opening ceremony, the Flag Hoisting Ceremony took place in the presence of the three Didis. This fluttering golden flag seemed to sing the glories of Jagadguruttam, spreading the glory of his name and fame.
Preparations for the Opening
Every nook and corner of Bhakti Dham was enlivened with embellishments, with every turn revealing yet another sublime scene. Beautifully designed ornate archways were raised at various places. Flagpoles lined the laneways with fluttering Radhe flags that seemed to chant the glories of Shri Radha Rani to every passerby. Bhakti Dham was turned into a bride-to-be with dazzling lights in multi-hued colours during the night.
Staging such a massive event with thousands of participants and guests expected was one of the biggest challenges for management but the bigger the challenge, the greater the Grace. Elaborate accommodation arrangements for all devotees and guests were made well in advance. Help desks with dedicated teams of volunteers were on duty round the clock. Arrangements were made within the main dining facility to safely cater to the growing numbers of people expected during mealtimes. Medical facilities were strategically set up and ready to cater to people's needs. There is only one phrase that could possibly explain the smooth running of such a huge event – 'The Miracle of Grace.'
A shining example of Guru Bhakti was set before all devotees by our dearest Didis when they washed the floor of Guru Dham with their holy hands. Their message was clear – 'Wash the impurities of your mind and heart by shedding tears of love for God and Guru.' Pracharaks and devotees followed them amid chanting "Jaya Ho mere Guruvar, Jaye Ho Mere Giridhar." Hundreds of devotees also washed the divine Guru Dham with their hands and tears.
GRAND OPENING – 13- 15 April 2021
A three day Sadhana programme for the Grand Opening of Guru Dham Mandir was organised. Kalash Yatra took place at 6 am on the first day. The temple is purified with holy water and then the puja ritual is initiated to infuse life into the temple deities. All seven rivers – Sindhu, Kaveri, Sarasvati, Ganga, Yamuna, Godavari and Narmada appeared in Bhakti Dham at the service of Guru Dham. Their pious water was showered all over Guru Dham and the surrounding area of the ashram.
The Puja ceremony began at Guru Dham and a magnificent canopy for the havan was erected. A Guru Mahabhog (Feast) was offered to Shri Maharaj Ji and there was a sea of homemade offerings that devotees prepared for their beloved master. On the second day, a Shobha Yatra – carrying of the idols of Shri Maharaj Ji and Pyari Amma on palanquins was conducted from Bhakti Mandir to the entrance of Guru Dham singing the glories of our beloved Guru.
Guru Dham Mandir was finally ready for its Grand opening on 15 April 2021. There was something extraordinarily spectacular about Bhakti Dham on this day. There was a divine aura everywhere. The domes were occupied by peacocks and their lively cries. Elephants swayed jubilantly, raising their trunks, and chirping birds filled the air with joy. At 3 am, a Divine Light Show took place. Shri Maharaj Ji chanted "Hare Rama" and "Radhe Govinda" sankirtan and an assurance of his veritable presence in the form of Guru Dham, Bhakti Mandir gave some respite to devotees.
The puja ceremony that began each day at 9 am concluded with purnahuti of the havan as the final ritual. Thereafter, various clusters of performers started to perform. One could see Manipur dancers, Kathakali dancers, Maharashtrian dholak players, Sonpuri drummers, Jhanjh players, Mridang players, Rajasthani pot dancers, conch players and many more. Coordinated drumbeats energised the ambience and gained momentum with each passing second. The balloons impatiently waited to be released to spread the glory of Guru Dham Bhakti Mandir all over the world, and the worlds beyond the clouds.
A beautiful silver-red ribbon wrapped the main entrance of the temple. The moment had finally arrived. Our dearest Didis and JKP preachers humbly prayed at the lotus feet of Shri Maharaj Ji by offering Guru Charan stuti. Emotions heightened when everyone poured their heart out extolling the glory of the lotus feet of Shri Guruvar. All anxious eyes now rested on the temple doors for their first glimpse of their beloved master. Didis chanted the swastivachan mantra before cutting the ribbon at 10.40 am sharp. These pious Vedic recitations had an enchanting and magical effect. The temple entrance door finally opened.
Didis lit the first lamp of the temple. Heading towards the main sanctum, they opened the door to the three-step altar where Shri Maharaj Ji stood gloriously as Bhaktiyoga-rasavatar, in his typical sankirtan-singing pose with raised arms.
The second sanctum was opened to reveal the Divine Guru Couple, Jagadguru Shri Kripalu Ji Maharaj and Shrimati Padma Devi, lovingly showering their grace in their forms as Kripalu Dampatti avatar, the ever-gracious divine couple.
The third sanctum houses Shri Maharaj Ji seated on his Jagadguru simhasan, revealing his Shrimat Padavakya-Pramana-Paravarina Jagadguruttam avatar, illuminating the world with the esoteric knowledge of the Vedas and scriptures in the most comprehensible form. They offered their obeisance and performed the arati.
Hundreds of colourful balloons with Guru Dham, Bhakti Mandir inscribed on them soared high into the skies, accompanied by the chanting of "Radhe" name. In the temple courtyard, dancers adorning the costumes from different states – from the graceful Manipuri Vasant Raas Leela dancers to the Kathakali dancers demonstrating their highly expressive hands and faces gestures with their colourful make-up and face masks performed. It was simply a breath-taking sight. Their performances started with slow rhythmic patterns, gradually picking up pace and reaching a crescendo taking devotees into a frenzy. All in all, it was a confluence of India's rich heritage of art and culture, the many rivers merging and flowing into the unbounded ocean of love and devotion for God and Guru.
The Inaugural Aarti of Jagadguruttam Shri Kripalu Ji Maharaj succeeded the opening, while the celebrations continued throughout the day. First Panchamrit Abhishek of Shri Maharaj Ji and Amma Ji was performed at the courtyard of Guru Dham. Long queues of devotees were eager to perform this special oblation. The merriments concluded with distributions of sweets and a souvenir orange flask with "Radhe Radhe" and "Rokar Pukaro" – Cry out to God and Guru shedding tears, inscribed on them.
A Maha-Arati was performed on the next day by all devotees of their Guru. Eyes brimmed with tears when devotees reminisced about the pastimes of their Guru. As evening set, a beautiful Mayur Nritya, Peacock Dance took place transforming Guru Dham into Mor Kuti. An enchanting Maharas Lila dance was performed the following day that covered all four modes of devotion – dasya, sakhya, vatsalya and madhurya, culminating in maharaas. It was a most joyous event that stirred great feelings of selfless devotion towards our beloved God and Guru.
DIVINE MANIFESTATION
Guru Dham, Bhakti Mandir is a Divine manifestation of our beloved Gurudev, Jagadguru Shri Kripalu Ji Maharaj. Throughout the 91 years of his physical pastimes on this Earth, he preached and inspired souls to practise devotion and attain their sublime goal. Nevertheless, his Grace still showers upon all surrendered souls. Even after culminating his physical pastimes, as our eternal companion, Shri Maharaj Ji continues to guide souls on their spiritual journey. This is just another one of his divine pastimes, though enigmatic, to help all aspiring devotees and genuine seekers tread the spiritual path.
Although Shri Maharaj Ji has never left Bhakti Dham after his physical disappearance, constantly realising his Divine presence does require an elevated level of spiritual practice. Hence, having a physical form of a temple is one way to assist aspiring devotees to realise his Divine presence, thereby enhancing their devotional practice.
When Shri Maharaj Ji was once asked about his plans for the following day, He expressed that his one and only plan every day is to guide and encourage people to walk on the spiritual path by all available means. In fact, numerous times, he explicitly quoted, "In a spiritual journey, a Guru never leaves his aspirant mid-way, instead he holds his hand until his goal is achieved." True to his words, Shri Maharaj has established himself in the form of Guru Dham, Mandir. Such is the Divinity of Bhakti Dham, Mangarh where 'Kripalu' eternally resides and continues to shower his grace forever.
Guru Dham sings the praises of devotion, service, faith, and love for Guru. It signifies the auspicious vow of surrender, sacrifice, austerity, and hard work and represents the loving sentiments of devotees. This temple is a beautiful manifestation of unity in diversity that enriches the cultural heritage of India. It symbolises devotion and love and promotes the concept of universal brotherhood. It is the ultimate refuge of all religions, all castes, and all sects. Thus, it can be considered as a mahakumbha, a spiritual union of faith and belief, where one can see a global gathering. It illuminates the endless sweet memories of Gurudev.
As devotees from all over the world get together to celebrate the second Anniversary of this beautiful Divine temple, we remember Shri Maharaj Ji having quoted several times in his discourses, that there is no distinction between Dhami and Dham, i.e. a Divine personality and his Abode. And this is exactly what every devotee experiences on their visit to Guru Dham, Bhakti Mandir. It is exceedingly challenging to express these experiences in words.
We pay our heartfelt obeisances to Jagadguruttam Shri Kripalu Ji Maharaj for this special Divine gift to the world in the form of this temple dedicated to the fifth original Jagadguru. The glories of this Divine temple, the Deities, and the devotee daughters offering it to the world will be forever enshrined in golden words.
"Jai Ho Mere Guruvar, Jai Ho Mere Giridhar."
*A brief introduction of Jagadguru Shri Kripalu Ji Maharaj*
(Known by His devotees as Shri Maharajji)
The original title of Jagadguruttam ('Greatest Spiritual Teacher of the World') was bestowed upon Shri Kripalu Ji Maharaj on January 14, 1957 by 'Kashi Vidvat Parishad' (a council of 500 greatest scholars saints of India). He composed divine texts like 'Prem Ras Madira', 'Prem Ras Siddhant', and 'Radha Govind Geet' to lead us on the right path of devotion. He also gave priceless monuments as gifts to the world which include  -  Bhakti Mandir located in Bhakti Dham, Mangarh,  Prem Mandir located in Vrindavan Dham, and Kirti Mandir located in Barsana Dham. Shri Maharajji also built hospitals for the impoverished, the Jagadguru Kripalu Chikitsalaya in Vrindavan, Jagadguru Kripalu Chikitsalaya in Barsana, and another one in Pratapgarh. All three help millions of underprivileged to gain free access to medical care. His Kindergarten, School, and College for impoverished girls Jagadguru Kripalu Parishat Education is located in Kunda and provides completely free education.