Bhakti Mandir The Crown Jewel of Bhakti Dham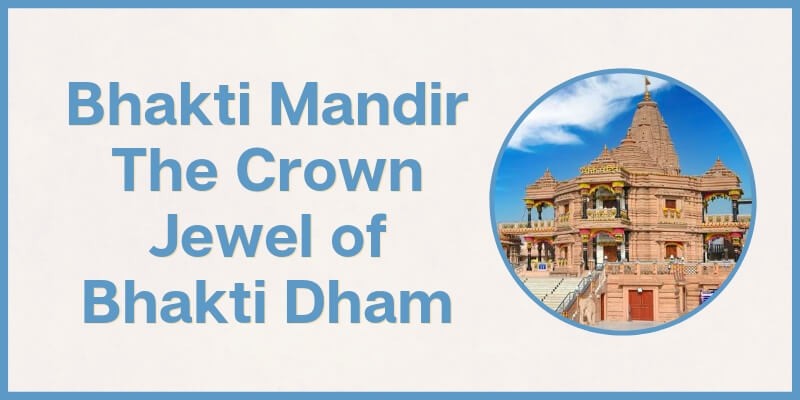 BHAKTI DHAM
Brief Introduction of Jagadguru Kripalu Parishat and Jagadguru Shri Kripalu Ji Maharaj
*A brief introduction of Jagadguru Shri Kripalu Ji Maharaj*
(known by His devotees as Shri Maharajji)
The original title of Jagadguruttam ('Greatest Spiritual Teacher of the World' ) was bestowed upon Shri Kripalu Ji Maharaj on January 14, 1957 by 'Kashi Vidvat Parishad' (a council of 500 greatest scholars & saints of India). He composed divine texts like 'Prem Ras Madira', 'Prem Ras Siddhant' and 'Radha Govind Geet' to lead us on the right path of devotion. He also gave priceless monuments as gifts to the world which include  -  Bhakti Mandir located in Bhakti Dham, Mangarh,  Prem Mandir located in Vrindavan Dham, Kirti Mandir located in Barsana Dham. Shri Maharajji also built hospitals for the impoverished, the Jagadguru Kripalu Chikitsalaya in Vrindavan, Jagadguru Kripalu Chikitsalaya in Barsana and another one in Pratapgarh. All three help millions of underprivileged to gain free access to medical care. His Kindergarten, School and College for impoverished girls Jagadguru Kripalu Parishat Education is located in Kunda and provides completely free education.
Blog
Our Reverential Salutation to Bhakti Dham.
The Holy Land of Braj is the crown of all Dhams or sacred abodes, and the crown jewel of Braj is Shri Vrindavan Dham. And yet Vrindavan Dham bows to Guru Dham, (Bhakti Dham) because the Supreme Lord, who made Vrindavan the abode for his sweetest divine pastimes, is subservient to his bhaktas or devotees, and therefore it is fully logical that his Dham is dedicated to the Bhaktas, Bhakti and Bhakti Dham.
(Sanskrit Quotations)
(Bhagwatam)
How can one describe the glory of the dham where bhakti resides in myriad forms? Bhakti Mandir, Bhakti Bhavan, Bhakti Kunj and Bhakti Mahal are each one of them, various forms of bhakti.
It is beyond Bhakti Dham itself to extol its virtues. Each and every particle in this dham is a part of Divine. It is only by the grace of God that one has the good fortune to experience the divinity of this sacred place. This holy land, that has been the witness of the most divine pastimes of the Jagadguru of this age, the supreme spiritual master of the world, has become a great place of pilgrimage where an uninterrupted stream of bhakti will continue to flow for thousands of years to come.
Today, Bhakti Dham is welcoming all devotees and asking them to immerse themselves in the ocean of nectar bhakti. At the same time, the older and smaller satsang bhavan is lost in its sweet memories of the past. Listen to what it says:
Here I am, the original satsang bhavan where for thirty four long years (from 1966 – 2000) Jagadguru Shri Kripalu Ji Maharaj so generously showered rasa, the nectar of bliss, that all my walls, ceiling and floors are dripping wet and have become the very source of that rasa. Anybody and everybody who visits this bhavan gets the thrill of their life. Not one or two, but thousands of nights have passed here with devotees chanting the holy names. I can distinctly recall how Bhagwati Nandan – besides making arrangements for the sadhana shivir – used to amuse people with his sense of humour. What I cannot forget is how he supervised the laying of my roof while standing all the time. Along with Chandra Prakash Singhal and other satsangis, he would do kar sewa, carrying headloads of bricks, gravel or iron rods etc. All the while, he would sweetly be chanting Radhe Govind.
After the construction of the hall was complete, it became his favourite lilasthali (place of pastimes) in the true sense of the term. Day and night he would participate in congregational chanting of the holy names. With the performances on stage representing the life and deeds of Chatainya or the sweet pastimes of Shri Radha Krishna, I felt as if Navadweep Dham and Shri Vrindavan Dham had reincarnated in me. He would sometimes lie on the ground unconscious. Sometimes he would move around mechanically in love ecstasy. The heart-rending wailing of the sadhakas in those days, their exacting practice of maintaining silence and their simple living had so moved Shri Maharaj Ji that he was completely won over by their love. There is so much to say.
In these 34-35 years, he has been there with me and so I miss him. In the early hours of the morning, the chanting of Hare Rama accompanied by the rhythms of the mridang would infuse life into inanimate objects. That divine voice would send the heart strings jingling. Tears would stream down their faces. It looked as if there was a perpetual high tide in the ocean of love. Soon he would come back to his emotional state.
The farmland in front of me was gradually converted into a park – Seva Kunj where he would come daily and bask in the sun. Sometimes he would play on the swing and thus delight others. Garlands made of marigolds around his neck would swing from side to side. The har singar flowers would adorn his forehead. Our beloved Amma Ji, with an innocently sweet smile on her face, would sometimes play with him on the swing at the request of devotees. Sometimes, she would sit with others, share their problems and immerse everybody in the ocean of her love and affection. How pleasantly nostalgic is the memory of those days gone by. Now it has become sadhak niwas where devotees stay.
Now I conclude this topic here. Let us talk about the holy occasion of Guru Purnima. Thousands of devotees have gathered in Bhakti Dham to celebrate Guru Purnima. Surrendering their all to the lotus feet of their Guru, some of them are shedding tears; some are running with intense longing towards Bhakti Mahal to catch a glimpse of their Gurudev. Bhakti Bhavan, taking all the devotees into its fold has turned into a unique ocean of nectar of bhakti, one in which everybody wants to take as many dips as possible, and yet their thirst continues more and more.
The devotees in large numbers have started queuing up here. All seekers from around the country and abroad have arrived to offer their respectful tribute to the lotus feet of their most beloved Guruvar.
Those satsangis who have been attending this grand celebration for the last 50-60 years, are overjoyed to sing in praise of Shri Maharaj Ji. While circumambulating this divine dham, they are applying the dust of this holy place again and again on their foreheads. You will be surprised to know that many years ago, the festival of Guru Purnima used to be celebrated without much fanfare in small houses. The festival of Guru Purnima was celebrated in that city where Shri Maharaj Ji was staying on the occasion. All satsangis would apply sandal paste on the feet of Shri Maharaj Ji and then on their foreheads. Their joy knew no bounds by doing so. There was no restriction of time and place. They could touch the feet of their dearest Shri Maharaj Ji any time in the day, morning, midday, afternoon and late in the evening. Having drunk the nectar of love to their fill, the sadhakas would roam around in a state of absolute bliss.
The sankirtan continued all night. The inebriation of Prema Rasa Madira, the intoxicating bliss of Divine Love, was so strong that some sadhakas would remain unconscious, some would cry uncontrollably and loudly. Still there were some whose condition was so strange that when they proceeded to garland Shri Maharaj Ji, they would trip and fall. Such was the nectar of divine love that Shri Maharaj Ji made his devotees drink. Shri Maharaj Ji himself stayed awake all night and explained the meaning of his verses while singing, chanting and dancing. Nobody felt tired. In the morning, they would continue with their usual routine. Ignoring their own needs, they would engage themselves in the service of Guru. Someone would serve in the kitchen. Some other persons would be moving about with Shri Maharaj and rush to him offering him paan when Shri Maharaj Ji wanted him to. His chewed paan was pleasurably accepted as maha prasad by all the sadhakas who felt overwhelmed by doing so. With his body, from the waist upwards uncovered and fragrant with the pleasing scent of sandal, when Shri Maharaj Ji moved around in a carefree and joyous manner, his black curly hair would swing and kiss his cheeks. Was it possible for anybody to not be overwhelmed with ecstasy to see this treasure of beauty? It is impossible.
(Sanskrit Quotation)
(Prema Ras Madira)
Very naughty and jovial by nature, his behaviour was often unpredictable. He would go and touch somebody's feet, and the very next moment, he would push another and laugh heartily. Sometimes, he would sit on somebody's lap and sometimes he would go and hide somewhere. Assuming him to be missing, devotees would cry unceasingly and then after some time he would stand up and smile sweetly amidst sobbing of his dear ones for him. He would wear any kind of clothing offered to him; he would readily eat whatever was given to him without any fuss. Devotees would offer all kinds of delicious food to him to their heart's content. Sometimes, he would continue eating non-stop, and at other times he would stop eating altogether for days on end.
Nobody can write about all his amazing, transcendental lilas and no one can remember each and every detail. Some satsangis have recalled that on many occasions if they had cooked some delicious dish, all the while thinking how nice it would be if they could offer it to Shri Maharaj Ji, then at the very moment there was a knock at the door and lo and behold, Shri Maharaj Ji was there.
Slowly and gradually, the number of satsangis went on increasing and Guruvar, the personification of bhakti, took a resolve to celebrate Guru Purnima with the people at large. People started celebrating Guru Purnima in big cities and towns. Then around 1991-92, grand celebrations on Guru Purnima started being organised at Shyama Shyam Dham, Vrindaban. However, even though Shyama Shyam Dham can accommodate about three thousand sadhakas, it was soon found to be too small an area in view of the ever increasing number of enthusiasts.
Soon after this, Rangeeli Mahal in Barsana became the venue for Guru Purnima celebrations, as it could accommodate five thousand devotees. Right from the early hours of the morning, long queues of devotees which seemed unending, began to form outside Shri Maharaj Ji's residence at about 2.30 am. Now this venue too is no longer considered adequate to meet the growing requirement. There was a lot of enthusiasm among the devotees, but the duration of Shri Maharaji's darshan started reducing. In spite of this, throughout his presence in the satsang bhavan, he would enthrall devotees with his sweet smile and divine words.
Thousands of thirsty eyes quenched their thirst by having a glimpse of Shri Maharaj Ji. Every year on the occasion of Guru Purnima, Shri Maharaj Ji would deliver discourses for two or more hours. It so happened that in 2004 there was an honourable advocate from Delhi who attended one of his discourses. While conversing with some devotees, he said that although when quoting from the scriptures Shri Maharaj Ji referred to the name of the book, it would be better if he could refer to the chapter and verse numbers as well.
No one knows how Shri Maharaj Ji came to know about this suggestion, but during that very evening, people were left speechless when they found him quoting chapter and verse, while referring to the relevant scripture. That day in his discourse, Shri Maharaj Ji quoted extensively as evidence, a plethora of Vedic mantras, shlokas from the Puranas, the Bhagavad Gita, the Shrimad Bhagavatam and the Ramayana. It was as though all the scriptures had themselves desired that on the occasion of Guru Purnima, Shri Maharaj Ji's divine voice would utter the numbers of their chapters and verses. This was no surprise for the satsangis as they knew that there was nothing impossible for Shri Maharaj Ji, but those who listened to his discourse for the first time were wonderstruck. Since that time, Shri Maharaj Ji started quoting the scriptures as evidence with chapter and verse. Till 2012, the festival of Guru Purnima had been celebrated in Rangeeli Mahal, Barsana.
This year, (2013) and for the first time, it is being celebrated in Bhakti Bhavan of Bhakti Dham.
Innumerable salutations to you, O dear Bhakti Dham!
You are a veritable form of devotion, devotee and God. Again and again, I bow down to you.