Bhakti Mandir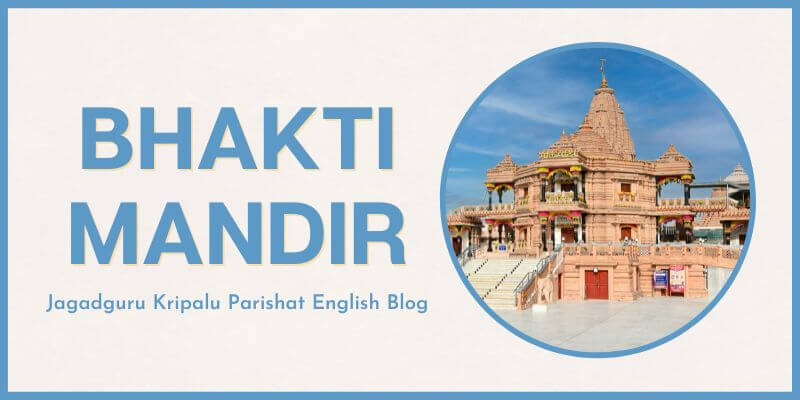 Bhakti Mandir
Consecrated to the world by the descension of Divine Love and Bliss, Jagadguruttam Shri Kripalu Ji Maharaj, for the peace and happiness of the world. The divine monument is the manifestation of divinity of earth, an abode of God, His devotees and devotion all residing together as never before, the ideal illustration of the words of the Vedas, and a perennial source of the nectar of devotional love.
Bhakti Mandir was inaugurated in November 2005 and devotees will today be celebrating the 17th Anniversary of this temple of devotion. This unique temple is made from makrana marble, granite and pink sandstone decorated with beautiful mosaics, intricate inlay work and unique black granite pillars. Such a magnificent temple was completed within a period of only 9 years in a small village. This made many wonder and conclude that such beauty can only be possible by the intervention of some supernatural power. This birth memorial houses the Deities of Shri Radha Krishna, Shri Sita Rama, Shri Krishna Balrama, the eight principle associates (mahasakhis) of Shri Radharani, the Deity of Shri Maharaj Ji, Shri Amma Ji, along with the Deities of his parents and other sculptures relating to the loving pastimes of Lord Krishna in Braj.
Bhakti Mandir not only distinguishes itself as the first temple to stand on granite pillars, but also unfolds its esoteric charm when visitors witness the spectacular kaleidoscopic dance of its lights at twilight. While retaining the cultural heritage of ancient temple architecture, it blends and conforms to modern elements and building by-laws too. A classic amalgamation where the contemporary meets the ancient.
But this is just the outward appearance and its magnificence. If we delve deeper and see keenly, we will know how adeptly the marble and black granite pillars depict the complexion of Shri Radha Rani and Shri Krishna, who embody this temple of devotion.
Shri Maharaj Ji subtly reveals this too when he says:
"My Bhakti Mandir has a gaur shyam appearance that is the complexions of Shri Radha Rani and Shri Krishna."
The divine grandeur and aura of this temple will surely provide inspiration to innumerable souls to strive for bhakti and divine knowledge for thousands of years to come.
*A brief introduction of Jagadguru Shri Kripalu Ji Maharaj*
(Known by His devotees as Shri Maharajji)
The original title of Jagadguruttam ('Greatest Spiritual Teacher of the World') was bestowed upon Shri Kripalu Ji Maharaj on January 14, 1957 by 'Kashi Vidvat Parishad' (a council of 500 greatest scholars saints of India). He composed divine texts like 'Prem Ras Madira', 'Prem Ras Siddhant', and 'Radha Govind Geet' to lead us on the right path of devotion. He also gave priceless monuments as gifts to the world which include  -  Bhakti Mandir located in Bhakti Dham, Mangarh,  Prem Mandir located in Vrindavan Dham, and Kirti Mandir located in Barsana Dham. Shri Maharajji also built hospitals for the impoverished, the Jagadguru Kripalu Chikitsalaya in Vrindavan, Jagadguru Kripalu Chikitsalaya in Barsana, and another one in Pratapgarh. All three help millions of underprivileged to gain free access to medical care. His Kindergarten, School, and College for impoverished girls Jagadguru Kripalu Parishat Education is located in Kunda and provides completely free education.