Chant Radhe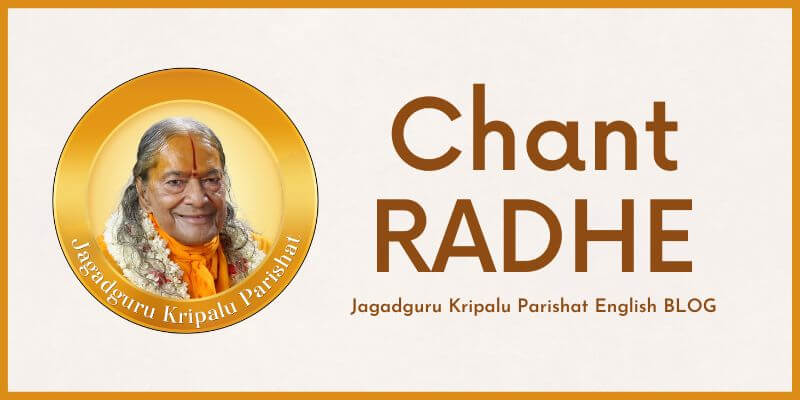 Chant Radhe
(Shri Maharaj Ji's personal instructions to all devotees)
Utilise every moment to the fullest while you are here in Bhakti Dham.
While walking or going for your meal, chant Radhe Radhe with every breath.
Practise this as much as you can.
This is one of the most important practices that I wish all of you to continue.
When you inhale, say 'Ra" in your mind and when you exhale, say 'dhe.'You need not pronounce the word. Keep practising this within your heart and mind constantly.
If you do so for a few short days, then you will feel, yes, I am chanting with my every breath.
If you continue to practise in this manner, then you will gradually reach a stage close to that of a Saint. Even during samadhi or in a conscious state, a Saint always chants God's name with every breath. In fact, every pore of his body resonates with the sweet chanting of the Divine name.
Do not overlook this very important form of devotional practice. Try to practise it all the time at all places. Don't be careless regarding the practice.
*A brief introduction of Jagadguru Shri Kripalu Ji Maharaj*
(Known by His devotees as Shri Maharajji)
The original title of Jagadguruttam ('Greatest Spiritual Teacher of the World') was bestowed upon Shri Kripalu Ji Maharaj on January 14, 1957 by 'Kashi Vidvat Parishad' (a council of 500 greatest scholars saints of India). He composed divine texts like 'Prem Ras Madira', 'Prem Ras Siddhant', and 'Radha Govind Geet' to lead us on the right path of devotion. He also gave priceless monuments as gifts to the world which include  -  Bhakti Mandir located in Bhakti Dham, Mangarh,  Prem Mandir located in Vrindavan Dham, and Kirti Mandir located in Barsana Dham. Shri Maharajji also built hospitals for the impoverished, the Jagadguru Kripalu Chikitsalaya in Vrindavan, Jagadguru Kripalu Chikitsalaya in Barsana, and another one in Pratapgarh. All three help millions of underprivileged to gain free access to medical care. His Kindergarten, School, and College for impoverished girls Jagadguru Kripalu Parishat Education is located in Kunda and provides completely free education.