Dhanteras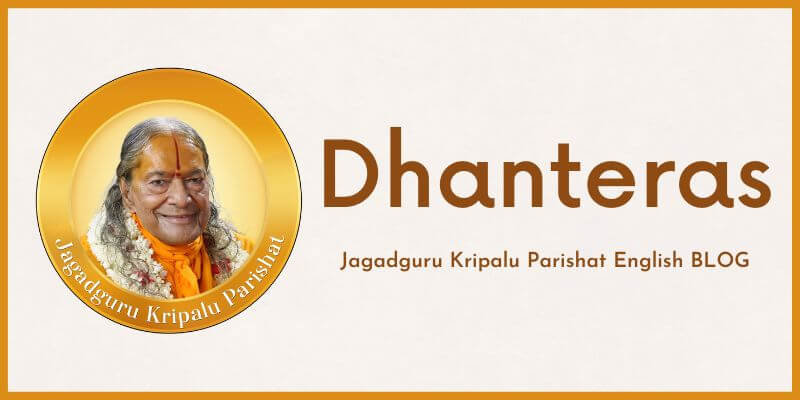 Dhanteras
On the auspicious occasion of Dhanteras, support the philanthropic work of Jagadguru Kripalu Parishat today. Jagadguru Kripalu Parishat (JKP) has continued its practice of charitable giving for over 30 years. These efforts, founded and inspired by Jagadguru Shri Kripalu Ji Maharaj, have led to three main arms of Philanthropy – Medical, Education and Poor Relief. Thus, under the divine guidance of Shri Maharaj Ji, JKP continues to engage in various humanitarian activities.
The spiritual work undertaken by Shri Maharaj Ji is certainly his greatest contribution to society. However, his philosophy concentrates on creating a balance in life by taking care of the body as well as the soul. He was always concerned with the predicament of simple village folk struggling for the basics of life, in ways we can never understand.
Medical
Seeing the suffering of so many impoverished people, Jagadguru Shri Kripalu Ji Maharaj decided to build and run three charitable multi-speciality hospitals located at Mangarh, Vrindavan and Barsana. The hospitals have modern medical equipment which offer consultation and diagnosis, free treatment (including free surgery), free medication and free follow-up consultations. Since its opening, more than 5 million people have benefitted from its 100% free medical facilities. The hospitals are fully financed by Jagadguru Kripalu Parishat.
All JKP hospitals provide holistic healthcare services to all impoverished patients. Allopathy, Homoeopathy, Ayurvedic, Naturopathy, Yoga, Physiotherapy and Acupressure treatments are provided. Jagadguru Shri Kripalu Ji Maharaj had always emphasised the importance of overall care of the body, mind and soul.
Jagadguru Kripalu Chikitsalaya, Bhakti Dham, Mangarh is situated in Pratapgarh District, Uttar Pradesh and was inaugurated by Jagadguru Shri Kripalu Ji Maharaj on 5 November 2003. This hospital has been proved to be a boon for the local residents who do not have anywhere else to go for medical attention or are unable to afford it. This hospital has state-of-the-art medical equipment, Allopathy, Homeopathy, Ayurvedic, Naturopathy, Physiotherapy and Acupressure treatments. The hospital serves about 600-700 patients a day.
Jagadguru Kripalu Chikitsalaya, Vrindavan is a state-of-the-art hospital for various branches of medicine, with an Emergency room as well. The foundation for this hospital was established by Jagadguru Shri Kripalu Ji Maharaj in February 2008. It became operational from September 2015. JKC, Vrindavan has a 50-bed hospital with private and general wards and is equipped with a modern infrastructure and medical equipment, including a fully computerised pathology lab. It can handle 800 patients in a day.
Jagadguru Kripalu Chikitsalaya, Barsana, Uttar Pradesh is recognised as one of the leading hospitals in Barsana. Barsana is a small village settlement, about 45 km from Mathura. This hospital has been operational since January 2007 and treats about 300-400 impoverished patients from nearby villages within a radius of 80-100 km. It has an in-house Allopathy, Homeopathy and an Ayurvedic pharmacy which provides patients with free medication.
Education
Jagadguru Kripalu Parishat Education was set up by Jagadguru Shri Kripalu Ji Maharaj to provide 100% free education to impoverished girls. The institution educates girls from Kindergarten to College – Kripalu Balika Primary School, Kripalu Balika Intermediate College and Kripalu Mahila Mahavidyalaya. The institution gives hope to thousands of underprivileged girls in rural India for a bigger and brighter future.
Other than providing 100% free education, the girls studying at JKP schools are given free school uniforms, stationeries, school bags, winter jackets, blankets and even bicycles from time to time. These are very useful in ensuring the girls do not have any obstacles in their education. Most villagers earn less than RS 33 a day and inevitably the education of their daughters is sacrificed due to their limited income.
Poor Relief
Other charitable activities undertaken by the JKP trust from time to time include distributions of daily necessities to the poor and underprivileged, mobility aids to the physically disabled, outreach services to people with vision impairment and leprosy, financial aid and daily essentials to poor villagers, social services to wandering ascetics and abandoned widows, supporting of government initiatives that benefit the needy and donations to the national relief fund during times of national calamity.
A gift to mothers and their daughters in the form of proper toilets was given to nearby villagers by Jagadguru Kripalu Parishat. JKP has built around 400 toilets for the impoverished who live not far from Bhakti Dham. Lack of toilets particularly affected the women folk who had to walk long distances to the fields, often at nights to relieve themselves. The project to build more toilets is ongoing and the villagers are deeply grateful for this initiative by JKP.
Jagadguru Shri Kripalu Ji Maharaj had set up the 'Poor Relief Fund' to help provide care and relief to the impoverished sections of society. Throughout the year, in addition to monetary assistance for the underprivileged, many distribution programmes are held whereby vital necessities are given to thousands of individuals who otherwise would not have access to these things.
Every year, Jagadguru Kripalu Parishat gives large bags of important necessities to the widows and impoverished villagers in Braj. Tens of thousands of Braj villagers are invited to our ashrams in Prem Mandir and Kirti Mandir. All of them are treated to a sumptuous meal and they are given a bag filled with a jacket, sweater, towels, soaps, blankets, cooking ware, etc. All this helps to make their lives more comfortable and they are deeply grateful to Jagadguru Shri Kripalu Ji Maharaj for his mercy and kindness and look up to him as God's associate. This work is continued today by the Presidents of Jagadguru Kripalu Parishat.
*A brief introduction of Jagadguru Shri Kripalu Ji Maharaj*
(Known by His devotees as Shri Maharajji)
The original title of Jagadguruttam ('Greatest Spiritual Teacher of the World') was bestowed upon Shri Kripalu Ji Maharaj on January 14, 1957 by 'Kashi Vidvat Parishad' (a council of 500 greatest scholars saints of India). He composed divine texts like 'Prem Ras Madira', 'Prem Ras Siddhant', and 'Radha Govind Geet' to lead us on the right path of devotion. He also gave priceless monuments as gifts to the world which include  -  Bhakti Mandir located in Bhakti Dham, Mangarh,  Prem Mandir located in Vrindavan Dham, and Kirti Mandir located in Barsana Dham. Shri Maharajji also built hospitals for the impoverished, the Jagadguru Kripalu Chikitsalaya in Vrindavan, Jagadguru Kripalu Chikitsalaya in Barsana, and another one in Pratapgarh. All three help millions of underprivileged to gain free access to medical care. His Kindergarten, School, and College for impoverished girls Jagadguru Kripalu Parishat Education is located in Kunda and provides completely free education.