Gopashtami Lecture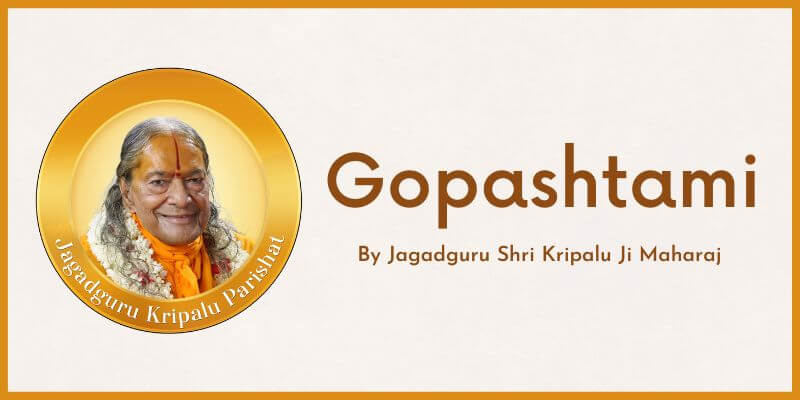 By Jagadguru Shri Kripalu Ji Maharaj
Gopashtmi
(A beautiful Leela of Shri Krishna grazing cows with his cowherd friends in Braj – as depicted by Jagadguru Shri Kripalu Ji Maharaj)
It is evening time in Braj. Shri Krishna and His friends are returning home, after grazing the cows near the Yamuna river since morning. Hundreds of thousands of cows are walking and behind them is Shri Krishna and He is surrounded by his cowherd friends.
Shri Krishna is dressed in a simple way since He has been in the fields, grazing cows the whole day. Thus, Mother Yashoda adorned Him in an informal manner. Shri Krishna has His peacock feather on His head, "kachani" on His waist, His Pitambara and His most important thing – His flute. He is holding a stick with one hand, the stick is laying on His shoulder. The other shoulder has a black blanket. This is how Shri Krishna looks when He goes to graze the cows.
Shri Krishna is walking behind the cows, and as the cows walk, the wind blows a large amount of dust from their feet which lands on the cowherds. There are hundreds of thousands of cows, so just imagine the amount of dust (Braj Raj) that is blowing. Due to this Braj Raj, all the cowherds, including Shri Krishna, would be covered with dust, from head to toe and they would appear white in colour.
In this way, Shri Krishna is returning home as He follows the cows. He is also playing His flute. The purpose of playing the flute is that Mother Yashoda and everyone will know that Shri Krishna is returning home. As Shri Krishna continues walking behind the cows, the cows are mooing. Even today when cows reach their homes, they moo for their calf. Shri Krishna is playing the flute for His devotees and the cows are mooing for their calves. The calves hear their mothers returning and they feel happy and excited as they will be fed now. So the milk is flowing in abundance from the cows, as they moo remembering their calves. At the same time, Shri Krishna is calling the Gopis through the music flowing from His flute.
This is the evening scene of Braj. Wanting to experience this leela, Lord Shiva would leave His abode (Kailash) and visit Braj daily. Lord Shiva used to take the form of a sage and secretly enjoy Shri Krishna's evening darshan
*A brief introduction of Jagadguru Shri Kripalu Ji Maharaj*
(Known by His devotees as Shri Maharajji)
The original title of Jagadguruttam ('Greatest Spiritual Teacher of the World') was bestowed upon Shri Kripalu Ji Maharaj on January 14, 1957 by 'Kashi Vidvat Parishad' (a council of 500 greatest scholars saints of India). He composed divine texts like 'Prem Ras Madira', 'Prem Ras Siddhant', and 'Radha Govind Geet' to lead us on the right path of devotion. He also gave priceless monuments as gifts to the world which include  -  Bhakti Mandir located in Bhakti Dham, Mangarh,  Prem Mandir located in Vrindavan Dham, and Kirti Mandir located in Barsana Dham. Shri Maharajji also built hospitals for the impoverished, the Jagadguru Kripalu Chikitsalaya in Vrindavan, Jagadguru Kripalu Chikitsalaya in Barsana, and another one in Pratapgarh. All three help millions of underprivileged to gain free access to medical care. His Kindergarten, School, and College for impoverished girls Jagadguru Kripalu Parishat Education is located in Kunda and provides completely free education.