Gopi Prem Diwas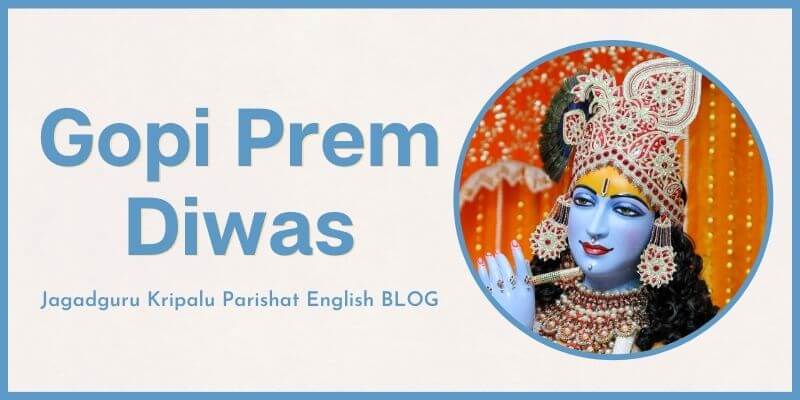 GOPI PREM DIWAS
14 February
Valentine's Day on 14 February is a global holiday that traditionally celebrates romantic love. It is one of the most commercially important holidays of the year. On this day, people celebrate their loved ones by exchanging Valentine Day's cards, chocolates, gifts, flowers, especially red roses.
Our Spiritual Master, Jagadguru Shri Kripalu Ji Maharaj chose to celebrate instead the Divine Romance of the selfless Braj Gopis for their beloved Lord Krishna, on this day and called it Gopi Prem Day. He also explained that Prem (love) is of two kinds; one love is that which is done towards God. The other love is that which is received from the Guru by God's inspiration.
Shri Maharaji has written beautiful couplets to mark this occasion:
"O Radhe Ju, On this Gopi Prem Day today, I beseech you for the selfless love as that of the Braj Gopis and plead to you that somehow make me yours. My only desire now is to spend days singing your glories and shedding tears of love for you in ecstasy."
"Blessed in the three worlds is the selfless Divine Love of the Gopis of Braja, bound by which, the Supreme Lord Shri Krishna forgets himself! He who has created infinite material universes is known in Braja as the son of the cowherd, Nanda."
We would like to share with you below a beautiful poem written by our Guru, illustrating this great Divine Romance between a soul and God – Chali Haum Dulahini Bani Sasurara – I am going to the Home of my Divine In-laws.
We, at Jagadguru Kripalu Parishat, would also like to take this opportunity to wish all devotees a Very Happy Gopi Prem Day.
Prem Ras Madira (Divine Wine)
By Jagadguru Shri Kripalu Ji Maharaj
"Chali Haum Dulahini Bani Sasurara"
(I am Going to the Home of my Divine In-laws)
Chali Haum Dulahini Bani Sasurara
Parama Hitaishi Rasika Purohita,
Byahyo Nandakumar
Guriyana Khela samana jani aba,
Tajyo Padaratha Chara
Chali sanga lai chara kaharana,
Mana-buddhi chita hankara
Aba laum rahi Kumvari aju te,
Bhai Suhāgini Nara
Maya kala 'kripālu' na raha jaham,
Taham sasurara hamara
Translation:
I am going to the home of my Divine in-laws. My supreme well-wishing Priest, in the form of the Rasika Saint, has facilitated my marriage to Shyamasundara. I have given up the four goals of human existence – Dharma – scripturally prescribed duties, Artha – the pursuit of wealth, Kama – sense gratification and Moksha – liberation, realising them to be futile as playing with dolls.
I am accompanied to the home of my in-laws by four palanquin bearers – the mind, intellect, power of reflection and ego. Up till now I had been unmarried, not knowing the Spouse of my soul, but today I have become an eternal Bride.
Kripalu Ji Maharai proudly proclaims, "The Home of my In-laws is a place where Maya and Time have no access!"
*A brief introduction of Jagadguru Shri Kripalu Ji Maharaj*
(Known by His devotees as Shri Maharajji)
The original title of Jagadguruttam ('Greatest Spiritual Teacher of the World') was bestowed upon Shri Kripalu Ji Maharaj on January 14, 1957 by 'Kashi Vidvat Parishad' (a council of 500 greatest scholars saints of India). He composed divine texts like 'Prem Ras Madira', 'Prem Ras Siddhant', and 'Radha Govind Geet' to lead us on the right path of devotion. He also gave priceless monuments as gifts to the world which include  -  Bhakti Mandir located in Bhakti Dham, Mangarh,  Prem Mandir located in Vrindavan Dham, and Kirti Mandir located in Barsana Dham. Shri Maharajji also built hospitals for the impoverished, the Jagadguru Kripalu Chikitsalaya in Vrindavan, Jagadguru Kripalu Chikitsalaya in Barsana, and another one in Pratapgarh. All three help millions of underprivileged to gain free access to medical care. His Kindergarten, School, and College for impoverished girls Jagadguru Kripalu Parishat Education is located in Kunda and provides completely free education.