Holi – The Festival of Colours and Love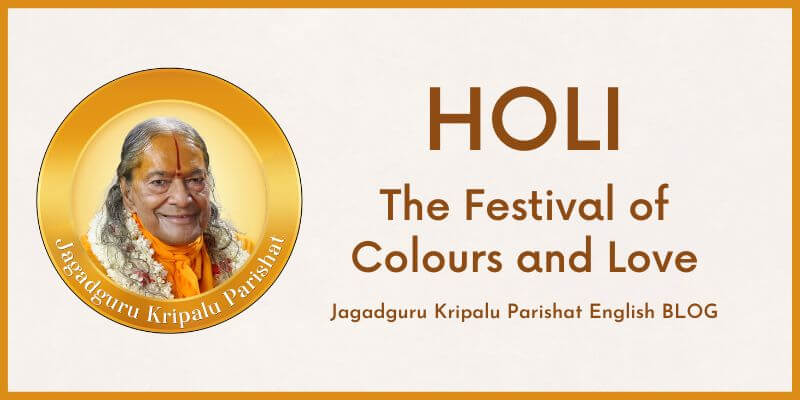 Holi – The Festival of Colours and Love
Holi is an ancient and one of the most popular festivals in Hinduism. It celebrates the eternal and Divine Love of Radha Krishna. It also signifies the triumph of good over evil, as it commemorates the victory of God over the evil king, Hiranyakashipu. In Braj, Mathura, Vrindaban, Barsana and Nandgaon, Uttar Pradesh, Holi is celebrated as a huge festival in memory of the devotional love of Krishna and Radha.
Barsana celebrates the unique Lath Mar Holi where women playfully beat men with sticks while men run around with shields to protect themselves. This is the day when people apply colours, pichkaris (water guns), water balloons to one another and enjoy. Groups of people with drums and other musical instruments come out on streets, dancing and singing their way from one place to another.
In Bhakti Dham, Mangarh, Holi is celebrated with great fervour by devotees. A ten-day Holi Sadhana Shivir is currently being held here consisting of meditation and spell-binding kirtan (chanting) classes with Holi as the central theme. Our three respected Presidents of JKP, play 'Flowers Holi' with devotees everyday, where everyone gets showered with multitude of marigold, rose and jasmine flowers and water balloons that drench all, in the spirit of Holi. It is a riot of colours everywhere and devotees from all over the world dance and rejoice, forgetting all their worldly stress during this festival.
The Divine Saint poet and the Supreme Spiritual Master of this age, our Gurudev, Jagadguru Shri Kripalu Ji Maharaj has written many beautiful Holi Madhuri pads in his book, Prem Ras Madira (Divine Wine) which form the basis of the blissful, devotional chants recorded here. Prem Ras Madira is a complete text, capable of taking one from the initial stage of detaching oneself from the world, all the way to the ultimate attainment of serving Shri Radha Krishna in the highest sentiment of sakhi bhava in the kunjas of Vrindavan and witnessing their confidential nikunja pastimes
An extraordinarily unique range of pastimes have taken place especially during the descension of Shri Krishna. However, the pastimes are a drop in the ocean of pastimes of that supreme performer of ever new lilas, Shyamsundara. The pads are unique, in that they are a crystal clear window to the devotional sentiments enshrined in a Rasik Saint's loving heart. They have been written in accordance with narrations of the Vedas, Puranas and other scriptures and the writing of the Rasik Saints.
On this auspicious occasion, let us be privy to the most intimate Holi pastimes of the Divine Couple, Radha Krishna and Gopis of Braj, as envisioned by our Divine Master. We share here two beautiful Holi pads from Prem Ras Madira.
May the joyful process of roopdhyan make all sadhak readers' hearts suitable receptacles to receive and eternally relish the wine of devotional sentiments of the pads in Prem Ras Madira as we immerse ourselves in this ocean of the nectar of Divine Love and be forever coloured in the love of Shri Radha Krishna, our Divine Beloved.
Radhe Samga, Shyama Khelain Hori
Ita aganita sakhiyana samga Radhe, utai sakhana Shyamahun jori
Phaga-samara-amgana Vrindavana, bhire dou dala jhakajhori
Lalahim-lala-gulala lala bhaye, lala, lala bhaim braja-khori
Lai pichakarina mara paraspara, ranga-biranga ranga ghori
Keshara-ranga bhari lai gagari, nagari, nagara-sara dhori
Auchaka avasara lakhi ramgadevi, lalahim gala ramgi rori
Hare sakhana sanga Hari ita, uta, jaya-jayakara lali ko ri
Sakhi-parikara kara pakari bamdhi hari, kahyo 'karahu aba barajori"
Kari soraha singara lala ko, diyo banaya sughara gori
Dai 'Kripalu' karatala alina samga, hamsata kahata 'Ho! Ho! Hori'
– Prem Ras Madira
Meaning –
Shri Radha and Shri Krishna are playing Holi with each other. Shri Radha is accompanied by innumerable sakhis, and Shri Krishna has also assembled innumerable sakhis. Vrindavana is the battleground and both parties have started their battle of Holi. Shyamsundara has become red all over with red gulala and so have become all the lanes of Braja.
Both groups are holding pichkaris in their hands, and are throwing water mixed with different colours on each other. While all this was going on, Kishori Ji suddenly took hold of a pitcher, full of scented saffron-coloured water, and poured it all on Shyamsundara. Seizing the opportunity, one of the sakhis named Rangadevi, sneaked up and smeared gulala all over Shyamsundara's face.
Thus the group of Shri Krishna and His sakhis was defeated in the battle. As a result they all ran away here and there, and Kishori Ji was applauded by all for Her victory. When they saw Shri Krishna running, the sakhis chased and caught Him. Then, they tied Him up saying tauntingly, "You have always been troubling us, we will get even with You today!" After that, adorning Him with all the sixteen embellishments, the sakhis changed Him into a beautiful young maiden.
Jagadguru Shri Kripalu says, "Seeing Shri Krishna in the form of a beautiful young girl, I also started laughing with the sakhis, all the while clapping and saying out loud, "Hori Hai, Hori Hai (i.e. It is Holi, It is Holi)"
Holi Ai Ri, Ari Vo Nathavari
Ghumghat ke pata kholi kheli le, lai pyari! kara pichakari
Bahuta dinana te kahati rahi tu, Hori avati Banavari!
Jo toye dara gurujana ko to chalu, Jamuna para utara pyari!
Jo toya dara mohum te kachhhu to, samga lai chalu sakhiyana sari
Manabhai 'kripalu' kari le tu, ya tero piya Giridhari
-Prem Ras Madira
Meaning:
On the occasion of Holi, Shyamsundara says to a maiden of Braja, "Oh Sakhi, with the nose-ring! The colourful festival of Holi has come! Oh darling! Raise your veil, and holding a pichkari in your hand, play Holi with Me to your heart's content. As you have also been telling Me for so many days, "Oh Banavari! Holi is coming."
If you are afraid of your parents and other elders, let's go to the other side of the Yamuna. And if you have any doubt on Me, then take all your friends along with you."
In the words of Jagadguru Shri Kripalu Ji, Shyamsundara adds, "Fulfil all the desires of your heart since I alone am your real husband (Divine beloved)
Jagadguru Kripalu Parishat wishes all readers a very Happy Holi!
*A brief introduction of Jagadguru Shri Kripalu Ji Maharaj*
(Known by His devotees as Shri Maharajji)
The original title of Jagadguruttam ('Greatest Spiritual Teacher of the World') was bestowed upon Shri Kripalu Ji Maharaj on January 14, 1957 by 'Kashi Vidvat Parishad' (a council of 500 greatest scholars saints of India). He composed divine texts like 'Prem Ras Madira', 'Prem Ras Siddhant', and 'Radha Govind Geet' to lead us on the right path of devotion. He also gave priceless monuments as gifts to the world which include  -  Bhakti Mandir located in Bhakti Dham, Mangarh,  Prem Mandir located in Vrindavan Dham, and Kirti Mandir located in Barsana Dham. Shri Maharajji also built hospitals for the impoverished, the Jagadguru Kripalu Chikitsalaya in Vrindavan, Jagadguru Kripalu Chikitsalaya in Barsana, and another one in Pratapgarh. All three help millions of underprivileged to gain free access to medical care. His Kindergarten, School, and College for impoverished girls Jagadguru Kripalu Parishat Education is located in Kunda and provides completely free education.