Philanthrophic Activities in March 2023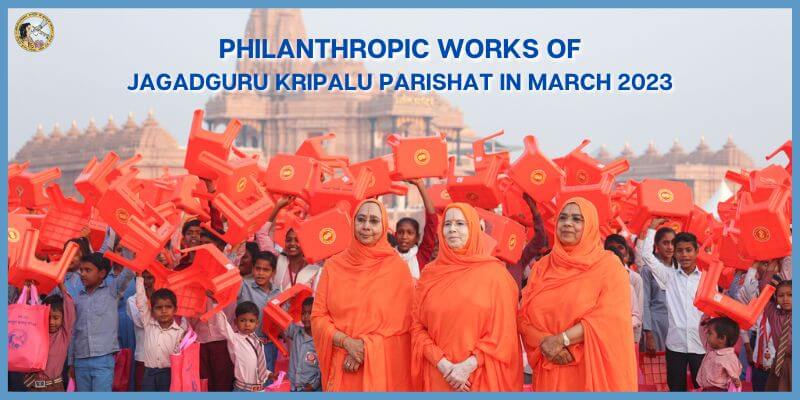 Philanthrophic Activities in March 2023
Jagadguru Kripalu Parishat, under the guidance and personal efforts of its three Presidents, the daughters of Jagadguru Shri Kripalu Ji Maharaj, HH Sushri Dr Vishakha Tripathi Ji, HH Sushri Dr Shyama Tripathi Ji and HH Sushri Dr Krishna Tripathi Ji, runs various philanthropic arms including a 100% charitable school/college for underprivileged girls, 3 large hospitals that provide free holistic medical care to all in need and a poor relief fund to give important necessities to the impoverished. For over 30 years now, JKP has been actively giving to charity. These efforts, founded and inspired by Jagadguru Shri Kripalu Ji Maharaj, have led to thousands of poor and impoverished people being helped. Almost 4 million lives have been helped due to these amazing efforts.
Regular distributions of essential necessities for the poor are held 3-4 times in a year in all our ashrams at Vrindavan, Barsana, Bhakti Dham and even Mussoorie. JKP's three Presidents take a lot of time and initiative to decide on what important items are vital for the villagers and school kids that would make a difference to their lives. They give much thought to this so that the children can concentrate on studying and completing their education without facing any hindrances. With these noble efforts, hopefully, one day they will grow up and be able to stand on their own feet and contribute back to the community in one way or another.
JKP regularly gives to hundreds of thousands of underprivileged individuals the valuable necessities that lessens the suffering faced by them. Warm jackets, blankets, utensils, stationeries, toilets, are provided amongst many other things. This year, our organisation gave out umbrellas, stools, mugs and bedsheets which were much appreciated by the school children.
Here's a quick roundup of all the philanthropic activities undertaken by JKP that took place in just one month – March 2023. It will give you an idea of the tremendous work that is done by JKP to help families and children coming from impoverished backgrounds.
5 Mar 23 – Bhakti Dham, Mangarh
5500 impoverished children were at Bhakti Dham to receive important necessities such as an umbrella, thermos mug, mini stool, bedsheet and more. The umbrella would help to shield them from the sun and heavy rains, the stool is for them to sit on and study and the mug would keep their milk warm. All these useful things were very much appreciated by the children who come from poor homes and would not be able to afford them. The JKP Presidents were also at the distribution to meet the children and help hand out these items.
12 Mar 23 – Bhakti Dham, Mangarh
Another Distribution of essential items was again held in Bhakti Dham, Mangarh for more than 2500 school children of the nearby districts. They too were given an umbrella, thermos mug, mini stool and a bedsheet. The children were so grateful and danced with joy. Our three Presidents graced this occasion too and personally handed out these items to the happy children.
27 Mar 23 – Prem Mandir, Vrindavan
5000 impoverished school children from Vrindavan trooped into Prem Mandir to receive important necessities for their use. They were given a stool, a bedsheet, a mug and an umbrella to shield them during the hot summers and rain. Our Presidents graced this occasion and met the children individually whilst handing out the gifts to everyone.
28 Mar 23 – Rangeeli Mahal, Barsana
6000 school children from Barsana and nearby districts were given a stool, a bedsheet, a mug and an umbrella for their use. Our Presidents specially made a trip to Barsana to grace the occasion and personally hand out the important necessities to the school children. Their happiness knew no bounds as they trooped in singing 'Radhe Radhe' in unison and collecting their gifts.
This brings to a grand total of 19000 school children that have been given important necessities during the month of March 2023 alone. Many more such Distributions would continue throughout the year and would help to bring much comfort to the poor and needy members of our society. Our organisation has a long-standing commitment to provide help and relief to the impoverished sections of society and improve their lives.
When our President of JKP, HH Sushri Dr Vishakha was honoured sometime back with the World Icon Award in Bangkok, which is given to individuals and organisations for their praiseworthy and remarkable contributions to society, Dr Tripathi had said, "This award belongs to our Guru, Jagadguru Shri Kripalu Ji Maharaj, who Himself always gave on a regular basis generously. He taught us to serve those in need. He said that if one has extra – then one must give it away and not keep it. We will continue to serve Him through these philanthropic efforts."
Our three Presidents strongly believe in serving this worthy human cause with all their hearts and minds. Let us all work together to end hardships faced by our less-privileged brothers and sisters in the world by helping to lift them out of poverty. Please help the charitable and noble work of JKP by donating generously to: www.jkp.org.in/donate
*A brief introduction of Jagadguru Shri Kripalu Ji Maharaj*
(Known by His devotees as Shri Maharajji)
The original title of Jagadguruttam ('Greatest Spiritual Teacher of the World') was bestowed upon Shri Kripalu Ji Maharaj on January 14, 1957 by 'Kashi Vidvat Parishad' (a council of 500 greatest scholars saints of India). He composed divine texts like 'Prem Ras Madira', 'Prem Ras Siddhant', and 'Radha Govind Geet' to lead us on the right path of devotion. He also gave priceless monuments as gifts to the world which include  -  Bhakti Mandir located in Bhakti Dham, Mangarh,  Prem Mandir located in Vrindavan Dham, and Kirti Mandir located in Barsana Dham. Shri Maharajji also built hospitals for the impoverished, the Jagadguru Kripalu Chikitsalaya in Vrindavan, Jagadguru Kripalu Chikitsalaya in Barsana, and another one in Pratapgarh. All three help millions of underprivileged to gain free access to medical care. His Kindergarten, School, and College for impoverished girls Jagadguru Kripalu Parishat Education is located in Kunda and provides completely free education.