Philanthropic Works of Jagadguru Kripalu Parishat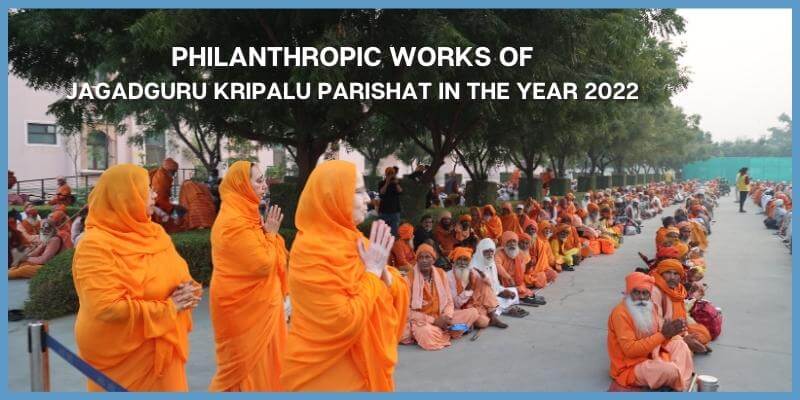 Philanthropic Works of Jagadguru Kripalu Parishat
In the Year 2022
Go to www.jkp.org.in/philanthropy2022 to see more pictures and videos.
Jagadguru Shri Kripalu Ji Maharaj had always emphasized the importance of overall care of the body, mind and soul. The spiritual work undertaken by Jagadguru Shri Kripalu Ji Maharaj is certainly his greatest contribution to society; however, His philosophy concentrates on creating a balance in life by taking care of the body as well as the soul. He was always concerned with the predicament of simple village folk struggling for the basics of life in ways we could never understand. Thus, with the divine guidance of Shri Kripalu Maharaj Ji, Jagadguru Kripalu Parishat (JKP), under the auspices of JKP Presidents, HH Sushri Dr Vishaka Tripathi, HH Sushri Dr Shyama Tripathi and HH Sushri Dr Krishna Tripathi continues to engage in various humanitarian efforts.
With very few medical facilities in many rural areas, Jagadguru Kripalu Parishat financed and built three major charitable hospitals. Jagadguru Kripalu Chikitsalaya in Kunda, Barsana and Vrindavan which serve millions of impoverished patients every year. All three hospitals provide 100% free medical services, free medication and free follow-up consultations. Since its opening, more than 5 million people have benefitted from its free medical facilities. Diagnosis and medical treatment have saved hundreds of thousands of lives.
All JKP hospitals provide holistic healthcare services to all impoverished patients. Allopathy, Homeopathy, Ayurvedic, Naturopathy, Yoga, Physiotherapy and Acupressure treatments are provided. All hospitals have 24 hours emergency services as well as Outpatient Department (OPD) to serve those in need at any hour. The In-patient (IPD) services ensure that the patient has a clean and hygienic place to rest and recover. They receive proper care and food.
All hospitals have in house pharmacies offering both allopathic and homeopathic medicines to patients. All medications provided are of the best standards Each patient is given guidance on how and when to take the medicines. Each hospital provides in house pathology labs manned by experienced specialists and qualified technicians All the vital tests are provided, including a complete blood analysis, biochemistry and other routine blood, urine and stool tests.
Jagadguru Kripalu Chikitsalaya, Bhakti Dham, Mangarh is situated in Pratapgarh District, Uttar Pradesh and was inaugurated by Jagadguru Shri Kripalu Ji Maharaj on 5 November 2003. This hospital has proven to be a boon for the local residents who don't have anywhere else to go for medical attention or are unable to afford it. The hospital serves about 600-700 patients a day.
Jagadguru Kripalu Chikitsalaya, Vrindavan is a state-of-the-art hospital for various branches of medicine, with an Emergency room as well. The foundation for this hospital was established by Jagadguru Shri Kripalu Ji Maharaj in February 2008. It became operational from September 2015. JKC, Vrindavan has a 50-bed hospital with private and general wards and is equipped with a modern infrastructure and medical equipment, including a fully computerized pathology lab. It can handle 800 patients in a day.
Jagadguru Kripalu Chikitsalaya – Barsana, Uttar Pradesh is recognized as one of the leading hospitals in Barsana. Barsana is a small village settlement, about 45 km from Mathura. This hospital has been operational since January 2007 and treats about 300-400 impoverished patients from nearby villages within a radius of 80 – 100 km. It has an in-house Allopathy, Homeopathy and an Ayurvedic pharmacy which provides patients with free medication.
Apart from daily OPDs, our hospital conducted Blood donation camps, Dental camps and Eye camps in 2002 for the poor and underprivileged patients as follows:-
1) Bhakti Dham – 11 Jul 22 – Blood Donation Camp was held and hundreds of sadhaks gave blood to those in need.
2) Rangeeli Mahal, Barsana – 12-14 Dec 22 – Dental camp by JKC was held where almost 400 dental surgeries were performed for underprivileged individuals.
3) Prem Mandir – 15-16 Dec 22 – A Heart camp was held to help impoverished individuals get their hearts checked and receive treatment.
4) Bhakti Dham – 17-21 Dec 22 – Over 240 plus impoverished patients had eye surgeries.
5) Prem Mandir – 31 Dec 22 – A Blood Donation Camp took place as many sadhaks gave blood to help those in need.
Our hospitals provide care to the most underprivileged in society. Over 5 million have been cared for since they have opened. The care and love they receive gives them hope for their future. They feel there's someone who really cares and this results in a positive mindset for them. All JKC services are 100% free. Doctors and caregivers are all volunteers who offer their services without any charges as well. Millions have been benefited by these medical services.
EDUCATION
As part of its philanthropic works, Jagadguru Kripalu Parishat Education (JKPE) was set up by Jagadguru Shri Kripalu Ji Maharaj to provide 100% free education to impoverished girls. The institution educates girls from Kindergarten to College – Kripalu Balika Primary School, Kripalu Balika Intermediate College and Kripalu Mahila Mahavidyalaya. The institution gives hope to thousands of underprivileged girls in rural India for a bigger and brighter future. The girls receive the best quality education at all levels from qualified and passionate teachers. The computer facilities at the school provide the girls to learn about new technologies so that they can be better equipped for the future.
Other than providing 100% free education, the girls studying at JKP schools are given free school uniforms, stationeries, school bags, water bottles, lunch boxes, winter jackets, blankets and even bicycles from time to time. These are very useful in ensuring the girls do not have any obstacles in their education.
On 25 September, 2022, Jagadguru Kripalu Parishat Education students visited Bhakti Dham in honour of the 100th Birth Anniversary of Jagadguru Shri Kripalu Ji Maharaj. It was a memorable occasion for them.
Distributions of relief items for JKPE students in 2002 took place as follows:
1) On 30 Apr 22 – bicycles were distributed to school children at JKP educational institutions
2) On 7 Nov 22 – winter distributions of winter blankets, warm clothing, etc. were given to all students in the JKP Education institutions.
Most villagers earn less than RS 33 a day and inevitably the education of their daughters is sacrificed due to their limited income. JKP Education institution has given tens of thousands of impoverished girls an education that has led to a much better life for themselves and their families. Many girls who have graduated are now able to lead fulfilling lives. Many work in schools as teachers, salons and shops because they have had an education. They are also contributing positively to their families. Today, many have been lifted out of extreme poverty because of the education they received. This is considered as one of JKPE's greatest achievements.
You can make a difference by supporting the important services of Jagadguru Kripalu Parishat Education. JKPE needs to maintain facilities, add new facilities to improve resources, such as adding more computers and other technologies that can help provide a better education to these girls.
DISTRIBUTION OF ESSENTIAL NECESSITIES TO IMPOVERISHED VILLAGERS
Distributions of essential items are held throughout the year for the impoverished people, both in summer and winter months catering to their specific needs during those times. Our JKP Presidents think very carefully as to what items are to be given to poor people so that their daily needs are fulfilled. Their soft hearts want to ensure that every person does not suffer and be unhappy. Jagadguru Shri Kripalu Ji Maharaj inspires them and they guide their devotees in this selfless sewas.
The following distributions of necessities were held during the year 2022:-
1) Bhakti Dham – 13 Mar 22 – 10,000 impoverished villagers in Bhakti Dham. Plastic chairs, lunch trays, etc. were given to each person.
2) Bhakti Dham – 16 Mar 22 – a further Poor relief distribution to over 10,000 impoverished villagers was carried out.
3) Bhakti Dham – 2 Nov 22 – Winter blankets, warm clothes and more were given out to impoverished villagers
4) Bhakti Dham – 5 Nov 22 – winter distributions of warm blankets to Jagadguru Kripalu Chikitsalaya patients
5) Bhakti Dham – 7 Nov 22 – Winter blankets, warm clothes and more were given out to impoverished villagers
6) Rangeeli Mahal, Barsana – 12, & 14 Nov 22 – Sadhus and impoverished Braj residents were given bags of important winter necessities.
7) Rangeeli Mahal, Barsana – 13 Nov 22 – Winter distributions to impoverished widows.
8) Prem Mandir – 15 Nov 22 – Winter distributions to impoverished widows.
9) Bhakti Dham – 31.Dec 22 – Blind individuals were given warm blankets.
10) Gifts of lentils, oil were also given out, and which came in so helpful to the impoverished people to cope in times of inflation.
During our distributions, thousands of impoverished people come and their happy faces say it all. Many recipients came forward to give their thanks to Jagadguru Shri Kripalu Maharaji for the commendable work that is done by our organisation. The items they had received proved to be very useful to them and their families, like school bags, towels, soaps, water bottles, tiffins, etc. and they consider Shri Maharaji God no less. These impoverished people can then move forward in their education, have proper clothes to wear and go about their daily life, without financial worry.
DISTRIBUTION OF NECESSITIES TO UNDERPRIVILEGED STUDENTS
Thousands of underprivileged children from nearby villages benefit from regular distributions of essential school necessities like school bags, water bottles, tiffins, etc. by JKP.
Distributions were held in 2022 as follows:
1) Bhakti Dham – 13 Mar 22 – JKP gave out buckets, soaps, towels etc. to the poor villagers. These items are extremely useful for the summer months.
2) Bhakti Dham – 16 Mar 22 – Over 10,000 impoverished villagers received important necessities.- sweaters, jackets, blankets, school bags and stationeries,
3) Prem Mandir – 7 Apr 22 – Over 5000 children were given buckets, mugs, towels, soaps and more.
4) Kirti Mandir – 8 Apr 22 – 5200 children came to receive buckets, mugs, towels, soaps and more.
5) Radha Kunj, Mussoorie, – 5 May 22 – a special distribution took place where over 1500 impoverished children received gifts of school bags, stationeries, and warm blankets from JKP.
6) Bhakti Dham – 31 Jul 22 – Hundreds of impoverished children were given school bags, stationeries and more.
7) Prem Mandir – 25 Aug 22 – School bags and other importance necessities were given to impoverished children
8) Kirti Mandir – 21 Oct 22 – A special distribution was held and school bags and other necessities were given to 6000 impoverished children.
9) Bhakti Dham – 23 Oct 22 – Warm winter jackets, blankets, socks. School bags, etc. were given to 5000 impoverished children.
10) Bhakti Dham – 30 Oct 22 – Another distribution to 3200 children took place. Winter jackets and other necessities were given to children.
11) Kirti Mandir – 2 Dec 22 – 6000 children were given warm clothings
12) Prem Mandir – 29 Dec 22 – 5000 children received warm jackets and socks.
The children are most happy and joyous during these distributions. They come in huge numbers with their teachers, and move in single file, singing and filling the air with cries of "Radhe Radhe." Many brandish their school bags in the air proudly. They feel so grateful and exhilarated with their new gifts. Apart from their school necessities, they also get biscuits and sweets and drinking water which are most appreciated by them. With the soaps and towels distribution, they are encouraged to always wash their hands properly with the soaps, and then wipe on towels to get rid of germs so that they stay healthy and fit.
GIFT OF TOILETS
Under the guidance of JKP Presidents, by May 2022, JKP had built around 400 toilets for the impoverished who lived not far from Bhakti Dham. The project to build more toilets is an ongoing one. JKP will continue building toilets for the next few years. They are built near village homes, so it is easy for the elderly as well as for the women to go right near their homes.
The villagers are very grateful to JKP as their mothers and daughters who used to go so far to find relief, now there is so much comfort to them. They don't have to face the challenges which they were facing earlier because of going outside for the toilet. Many praise our three JKP Presidents, lovingly called Didis, who have done so much for the old, young and kids in the villages. They used to walk on the road for long distances, or go to farms which was most difficult, at night particularly. Many had bad knees and had to struggle to go very far, to the water stream, where there were men too and it was very awkward for them. The women particularly faced great difficulties and are now freed of the dangers that they faced.
OTHER CHARITABLE ACTIVITIES
Besides distributions of daily necessities to the poor and underprivileged, other charitable activities undertaken by the JKP trust from time to time, include providing mobility aids to the physically disabled, outreach services to people with vision impairment and leprosy, financial aid and daily essentials to poor villagers, social services to wandering ascetics and abandoned widows, supporting government initiatives that benefit the needy and donations to the national relief fund during times of national calamity.
Over the last year, on 20 Feb 22, JKP gave out desks and benches to 25 schools in Pratapgarh that cater to impoverished school children. This is a very valuable service as it means that the students have a comfortable and hygienic environment to study.
We need your help to continue to improve our services and to provide care that these impoverished communities need. Just imagine, not having facilities that we take for granted. No four walls around you, no mattress to sleep on, insects everywhere, dust in the air, lack of clean water, no one to care, no money, no proper medications, no nearby doctor. imagine the pain and the suffering one goes through when going through even the most common of all illnesses. Make a difference and donate to a good cause.
Your donations goes 100% into improving the facilities of our hospitals, procuring updated medical equipment and resources, serving more patients and much more.
Please be generous and donate at – www.jkp.org.in/philanthropy and to see all the Philanthropic efforts of 2022 please go to www.jkp.org.in/philanthropy2022
For more information on Jagadguru Kripalu Parishat, please visit www.jkp.org.in
*A brief introduction of Jagadguru Shri Kripalu Ji Maharaj*
(Known by His devotees as Shri Maharajji)
The original title of Jagadguruttam ('Greatest Spiritual Teacher of the World') was bestowed upon Shri Kripalu Ji Maharaj on January 14, 1957 by 'Kashi Vidvat Parishad' (a council of 500 greatest scholars saints of India). He composed divine texts like 'Prem Ras Madira', 'Prem Ras Siddhant', and 'Radha Govind Geet' to lead us on the right path of devotion. He also gave priceless monuments as gifts to the world which include  -  Bhakti Mandir located in Bhakti Dham, Mangarh,  Prem Mandir located in Vrindavan Dham, and Kirti Mandir located in Barsana Dham. Shri Maharajji also built hospitals for the impoverished, the Jagadguru Kripalu Chikitsalaya in Vrindavan, Jagadguru Kripalu Chikitsalaya in Barsana, and another one in Pratapgarh. All three help millions of underprivileged to gain free access to medical care. His Kindergarten, School, and College for impoverished girls Jagadguru Kripalu Parishat Education is located in Kunda and provides completely free education.