Sushri Dr Vishakha Tripathi Ji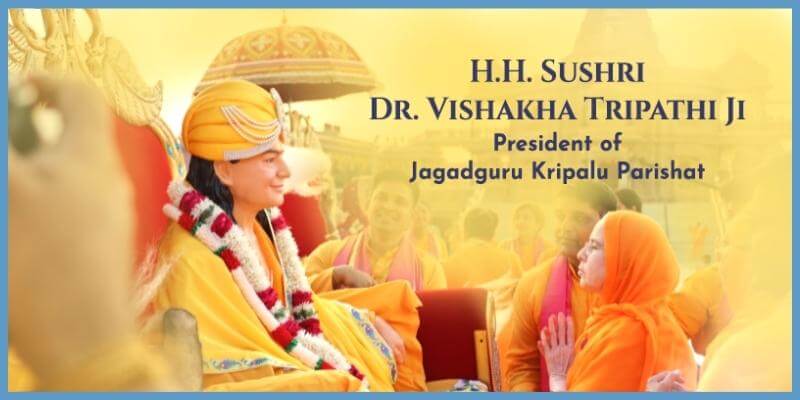 Sushri Dr Vishakha Tripathi Ji,
President of Jagadguru Kripalu Parishat
2 February 2023
HH Sushri Dr Vishakha Tripathi, President of Jagadguru Kripalu Parishat (JKP), lovingly called Badi Didi by all devotees, was born in 1949 in a small village of Lilapur, not far from Bhakti Dham. Born into a Brahmin family and daughter of Jagadguru Shri Kripalu Ji Maharaj; from childhood, Badi Didi was always very independent; her nature was very innocent and was always very cheerful. Being the eldest, she was most disciplined and carried herself with dignity, even wearing saris in her college times. This often led to her being mistaken for the class teacher, when she entered the classroom!
She studied her Masters focusing on the Arts, mainly on painting from Agra. Dr Tripathi ji is a gifted painter and has painted numerous works which adorn many places in Bhakti Dham and our other ashrams. Looking at her paintings, one feels as if one is being transformed into a Divine realm. She was also an avid photographer in her early years, and she has shot many of the incredible videos of Shri Maharaji in the 1980s and early 1990s.
Jagadguru Shri Kripalu Ji Maharaj appointed Dr. Vishakha Tripathi as the President of Jagadguru Kripalu Parishat in the early 2000s. She also leads the major philanthropic arms of the organization, Jagadguru Kripalu Chikitsalaya and Jagadguru Kripalu Parishat Education. Under her leadership, over 4.2 million people have been benefited by the philanthropic and spiritual efforts of the Trust. She is the recipient of numerous awards for the great philanthropic work done by JKP, namely Rajiv Gandhi Global Excellence Award, Nari Award and many more.
All through her life, she had only one desire, to serve God and Guru. Dr Tripathi Ji guides the hundreds of thousands of devotees to follow the teachings of Jagadguru Kripalu Ji Maharaj and attain their goal. Dr Tripathi also guides the hundreds of JKP centers that have been created in India and globally. Under her leadership, the aim of spreading Jagadguru Shri Kripalu Ji Maharaji's teachings has reached millions.
In honor of her birthday, we want to share a glimpse of the tremendous humanitarian efforts she has made to help those in need both spiritually and physically. Just like her Divine father she gets up at 1 am daily to get ready and be with devotees by 2.15 am. She is an example of great discipline and provides an example to all on how a sadhak's life should be. She never wants to waste a single second of this human birth and teaches us to do the same. Her daily sleep patterns amount to not more than 5 hours each day. By 3.45 am everyday, she has always been in the sadhana hall.
She performs her sadhana and guides everyone as to how to practice sadhana in a mindful manner. She also performs Aarti in Bhakti Dham everyday and by 5.30 am she has already greeted hundreds of sadhaks and answered numerous questions. She is always ready to help any devotee on the spiritual path and guides them like a mother would to a child. Throughout the day, Dr Tripathi ji has regular meetings to guide those who work in the trust and make the important decisions to run JKP. She organizes and attends all the sankirtan sessions and teaches all sadhaks to do Roopdhyan of Hari Guru whilst singing the leelas of Radha Krishna.
Her loving presence itself motivates all to reach for the highest echelons of selfless Bhakti to please Hari Guru. She constantly reminds us that Shri Maharaji has said that whilst our body is in good condition, we should concentrate on doing our sadhana and not allow our mind to wander in the world. Throughout her life, she has inspired uncountable souls to walk on this path, she works without rest for only one reason – to uplift souls and bring them to Hari Guru.
Badi Didi has made a great impact on so many devotees, who speak so lovingly and highly of her. We took the opportunity to speak to a few devotees and this is what they had to say:
"Badi Didi was always there to take care of us. When my mind was disturbed about my job, I would go to sit with Badi Didi and she would share a joke or share something about Maharaji and his philosophy and everything would suddenly be alright. She has the power to make everything positive and joyful. She is an extension of Maharaji and an example of pure selfless service to Hari Guru with joy. She never rests. Wants us to achieve the goal of reaching God in this lifetime itself. She inspires us everyday to serve Hari Guru with joy." (Ajay Shaw – USA)
"What comes to my mind when I think of Badi Didi – Love, peace, kindness. Everything about her personality is just mercy. She only wants our welfare. Every moment is precious to her. Even if she has one spare minute in her hand, she is seen encouraging us to sing sankirtan, and think of our Guru or she is sharing Maharaji's philosophy with us. She never rests. She embodies the sense of sewa to God and Guru at the highest level" (Vibhuti/Anshul – India)
"Badi Didi changed my life. Her love motivated me to walk on this path with courage. I have realized that my life is precious and I want to focus on achieving my goal. She is the light on the path of sewa to Hari Guru." (Shriya Joshi, USA)
"Our organization is large and everyone is working on a voluntary basis and she is definitely a driving force. When we sit with her in sadhana in satsang, each and every person gets electrified, it is only with her grace that we are able to remember Shri Maharaji. She is like a standing reminder to us that Maharaji is with us." (Sangeeta Nanwani – Hong Kong)
"Love, full of knowledge, so motivating – I suffered a terrible loss that shook me to my core and it was Badi Didi who helped me to deal with this tragedy. She gave me the courage to move forward. She only wants us to achieve our goal of achieving God in this lifetime." (Kavita Radhey – Trinadad)
"Badi Didi is a motherly figure to literally everyone. She is the epitome of love and kindness." (Kirti Ramchandani – Singapore)
To describe one of a divine nature like Badi Didi is practically impossible.
Once someone had asked Shri Maharaji on the meaning of 'Vishakha.' His answer was 'Vishakha' is a special branch of Divine Love.
We devotees are so fortunate and blessed to have such a Divine personality amidst us, to love and guide us and to bring us closer to our ultimate aim of God-realisation.
All of us at Jagadguru Kripalu Parishat, as we celebrate this day with great joy and fervor, wish our Badi Didi a Very, Very Happy Birthday and many, many more to come.
We love you, Badi Didi!
*A brief introduction of Jagadguru Shri Kripalu Ji Maharaj*
(Known by His devotees as Shri Maharajji)
The original title of Jagadguruttam ('Greatest Spiritual Teacher of the World') was bestowed upon Shri Kripalu Ji Maharaj on January 14, 1957 by 'Kashi Vidvat Parishad' (a council of 500 greatest scholars saints of India). He composed divine texts like 'Prem Ras Madira', 'Prem Ras Siddhant', and 'Radha Govind Geet' to lead us on the right path of devotion. He also gave priceless monuments as gifts to the world which include  -  Bhakti Mandir located in Bhakti Dham, Mangarh,  Prem Mandir located in Vrindavan Dham, and Kirti Mandir located in Barsana Dham. Shri Maharajji also built hospitals for the impoverished, the Jagadguru Kripalu Chikitsalaya in Vrindavan, Jagadguru Kripalu Chikitsalaya in Barsana, and another one in Pratapgarh. All three help millions of underprivileged to gain free access to medical care. His Kindergarten, School, and College for impoverished girls Jagadguru Kripalu Parishat Education is located in Kunda and provides completely free education.