The 20 Year Journey of Jagadguru Kripalu Chikitsalaya Mangarh – How it all began!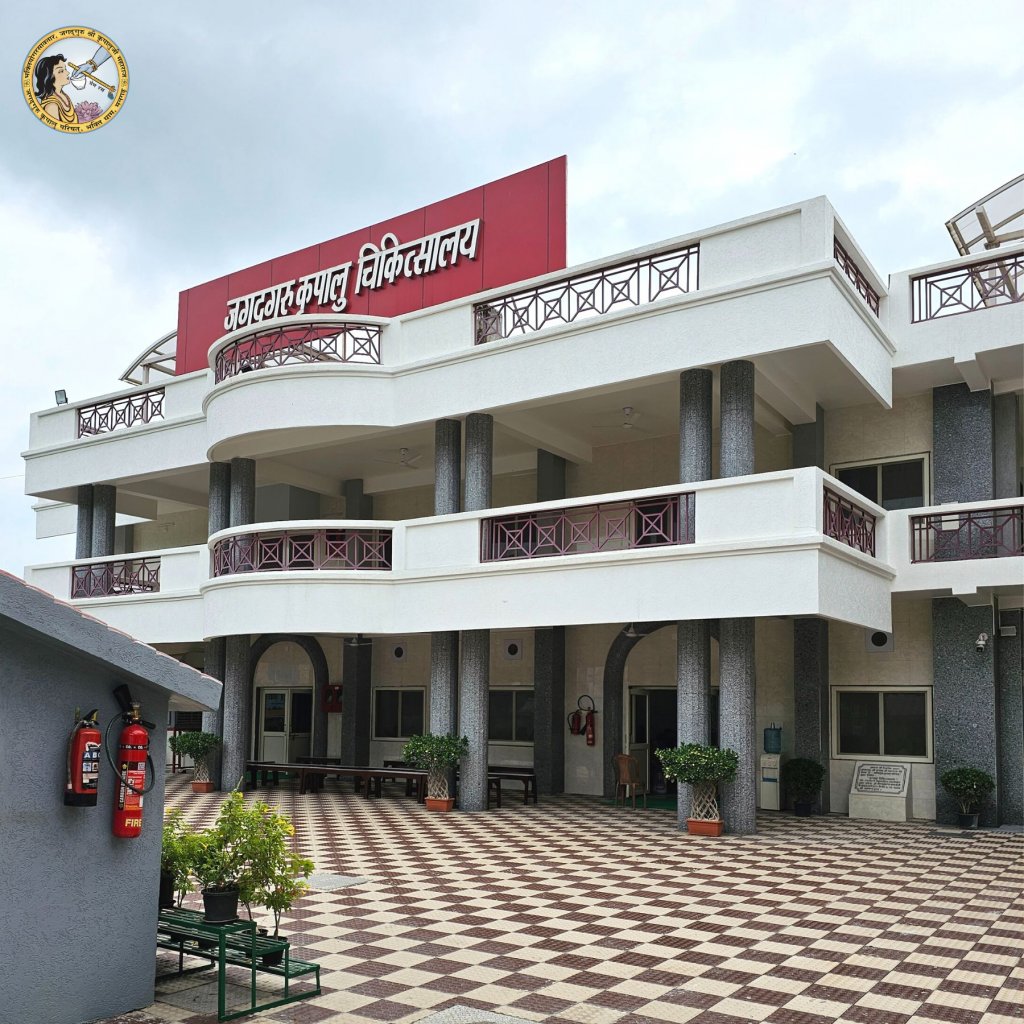 Jagadguru Kripalu Parishat (Bhakti Dham) celebrates the 20th Anniversary of Jagadguru Kripalu Chikitsalaya – Mangarh on 5 November 2023. This celebration marks 20 years of dedicated hospital service to the poor rural community of Mangarh and its surrounding villages. Celebration of the 20th anniversary of the Jagadguru Kripalu Chikitsalaya – Mangarh is an epic saga of success, achievement, and realisation of a living Saint's dream – Jagadguru Shri Kripalu Ji Maharaj.
Shri Maharaj Ji was always concerned with the predicament of the simple, poor villagers struggling for the basics of life. He could not bear to see their plight and sufferings and he constantly thought of ways to bring solace and comfort to their lives. Due to the severe lack of medical facilities in the region, Jagadguru Shri Kripalu Ji Maharaj decided to provide free holistic medical care to the poor villagers.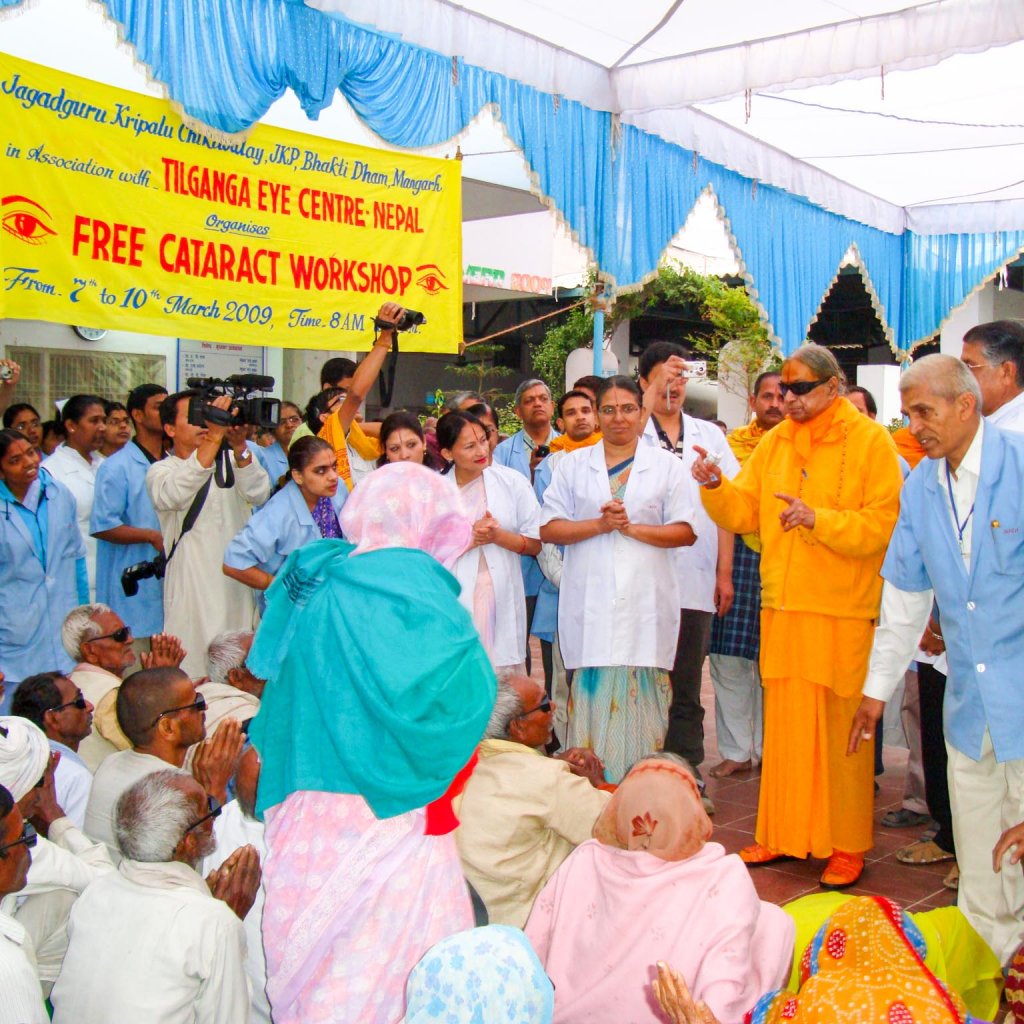 JKP financed and built a charitable hospital, Jagadguru Kripalu Chikitsalaya – Mangarh, which today serves thousands of impoverished villagers every year. This hospital was first inaugurated on 5 Nov 2003 by Jagadguru Shri Kripalu Ji Maharaj and His Excellency, the Governor of Uttar Pradesh, Late Dr. Vishnu Kant Shastri. The hospital serves about 600-800 patients in a day and has proven to be a boon for the local residents who don't have anywhere else to go for medical attention or are unable to afford it.
About Jagadguru Kripalu Chikitsalaya:
Our hospital provides 100% free medical services, free medication and free follow-up consultations. Doctors and other caregivers here are volunteers and work without a salary, so that they can selflessly serve the local community. Since its opening, more than a million people have benefitted from its free medical facilities. Diagnosis and medical treatment have saved hundreds of thousands of lives.
Presently, the hospital has experienced physicians, surgeons, gynecologists, ophthalmologists, dental, physiotherapy, naturopathy, and homeopathic doctors providing their services on a charity basis. Specialist doctors also pay regular charity visits to the hospital during special medical camps a few times a year. Today, the hospital is well equipped with 50 beds with separate male and female wards. The hospital is equipped with state-of-the-art equipment to provide top-class medical care for all patients.
JKC Mangarh provides holistic healthcare services to all impoverished patients. Allopathy, Homoeopathy, Naturopathy, Yoga, Physiotherapy, and Acupressure treatments are provided. The hospital has 24-hour emergency services as well as an Outpatient Department (OPD) to serve those in need at any hour. The In-patient (IPD) ward services ensure that the patient has a clean and hygienic place to rest and recover. They receive proper care.
The hospital has in-house pharmacies offering both allopathic and homeopathic medicines to patients. All medications provided are of the best standards. Each patient is given guidance on how and when to take the medicines. Our hospital provides in-house pathology labs manned by experienced specialists and qualified technicians. All the vital tests are provided, including complete blood analysis, biochemistry, and other routine blood, urine, and stool tests.
Key milestones in JKC's development journey:
JKC-Mangarh has gained immense popularity since its inception in 2003 and patients from a number of surrounding villages are benefiting from the same. To accommodate these huge numbers, the hospital has been continuously under expansion from the early days. It started off with one building that had OPD and labs all situated within. Then, a new wing was added with labs, pathology & ultrasound services.
11th Aug 2005 saw Shri Maharaj Ji inaugurating a new pharmacy block consisting of an Allopathy Pharmacy and a Homoeopathy Pharmacy. Apart from this, the waiting hall was also expanded to accommodate the increasing number of patients daily. A bigger general ward – separate for males & females, more private wards, a separate Eye OT, and a Gynae OT apart from a General OT was also constructed on the first floor.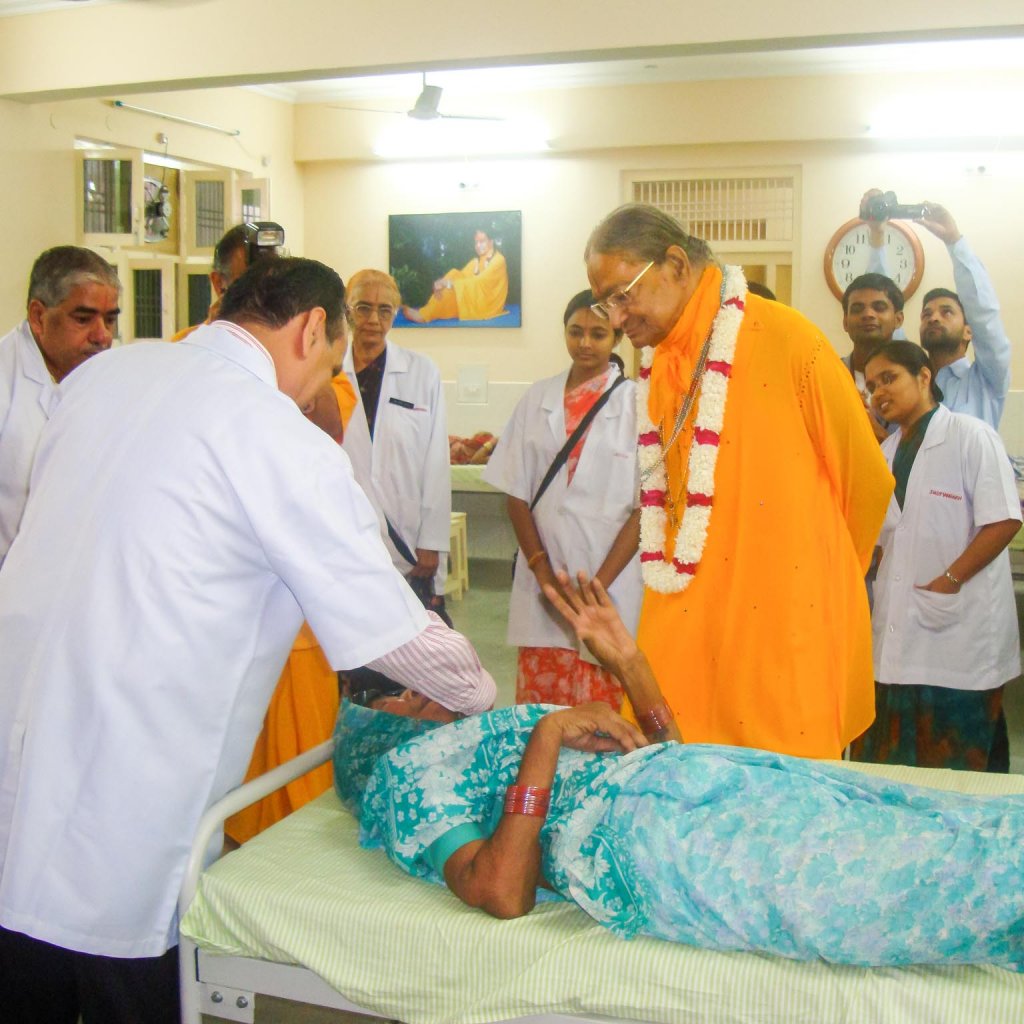 Shri Maharaj Ji inaugurated the Naturopathy Wing of the Hospital on March 27th, 2005. The treatments offered here include an hour of Yoga Exercises, Mud Bath, Sun Bath, Steam Bath, etc. – a treatment that involves no medication whatsoever. This treatment is also provided free of cost.
On July 26, 2009, Jagadguru Shri Kripalu Ji Maharaj inaugurated a new hospital building that provided the Ophthalmic department, a Physiotherapy and Shiatsu Pressure unit, and the inauguration of JKC's Dental Department. JKC's Physiotherapy Department has the latest physiotherapy equipment such as an Interferential Therapy Unit, Physio Ultrasound Therapy Unit, Physio Short-wave Diathermy and Traction Unit, etc.
In October this year, a new building was inaugurated by our JKP Presidents, Sushree HH Dr. Vishaka Tripathi, HH Dr. Shyama Tripathi, and HH Dr. Krishna Tripathi, housing a brand new Reception area for patients, a new Pharmacy for Allopathy, Homeopathy and the Eye Department. New operation theatres for Eye and special camps were also built.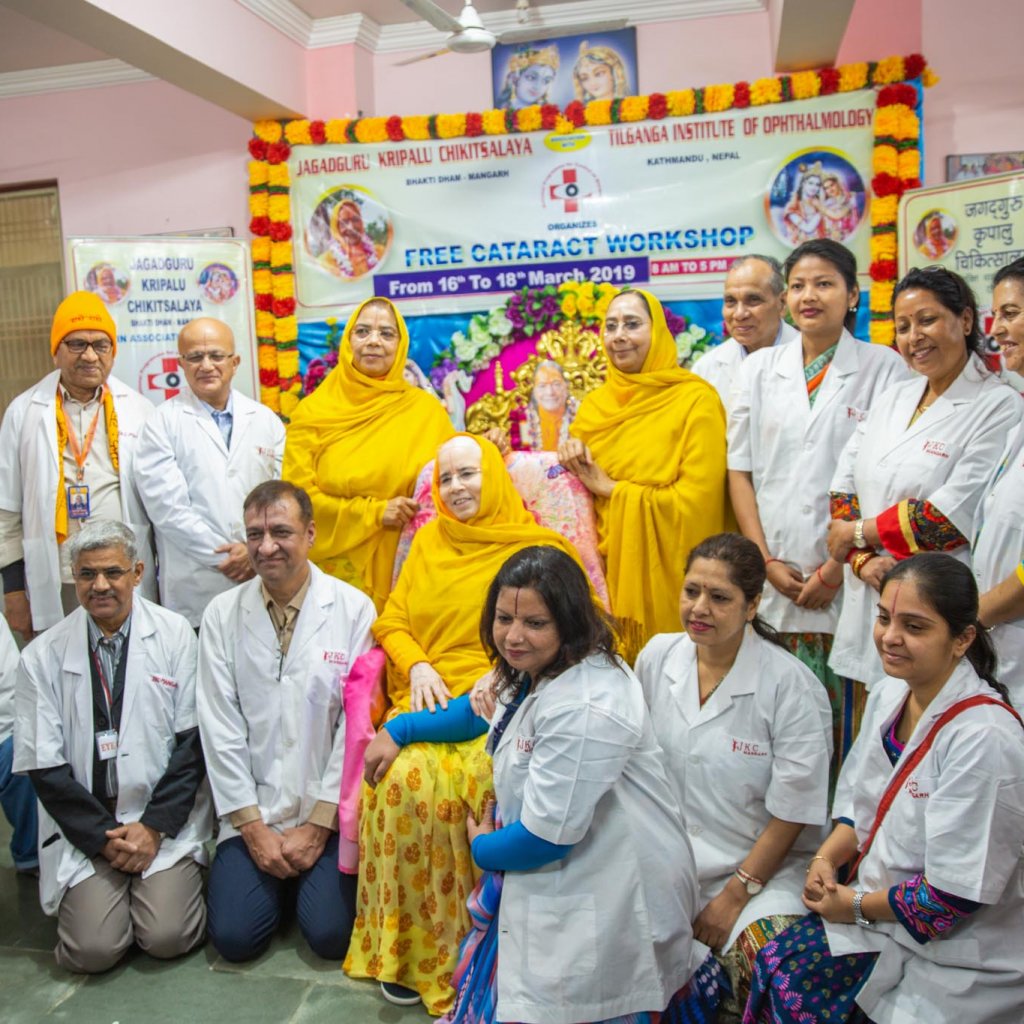 Medical Camps & Workshops Conducted
Since its inception, the hospital has been continuously holding various medical camps such as Blood Donation Camps, Heart Camps, Skin Camps, Dental camps, Cataract Workshops, and general Medical Camps in its campus area whereby specialist doctors of respective disciplines conduct these camps under their supervision.
JKC-Mangarh will be holding its next upcoming camp – Skin Camp (25-26 Oct 23) and Eye Camp (2-4 Nov 23 ) Hundreds of poor villagers are expected to benefit from this.
A special Dental Camp (9-10 Nov) has also been organized for Kripalu Balika Primary School, Kripalu Balika Intermediate College, and Kripalu Mahila Mahavidyalay, which comes under the charity arm of JKP's Jagadguru Kripalu Parishat (Education). It was set up by Jagadguru Shri Kripalu Ji Maharaj to provide 100% free education to impoverished girls. This camp will provide free dental check-ups to all students and address their dental concerns.
Blood – Donation Camp
Since 2007, JKC has been holding Blood Donations twice every year. Once in March, when the Holi Program is held in Bhakti Dham, and the second in October/ November, when there is a one-month Sadhana Shivir in Bhakti Dham. During this period, many devotees from within India and abroad come to participate in these programs and many are willing to donate blood to help save someone's life.
Eye Camp
Since the inauguration of the new Ophthalmic Department in July 2009, JKC Mangarh started off with a resident Ophthalmologist who daily ran an Ophthalmic OPD. Today, with the recent addition of 2 Eye Operation Theatres, our resident ophthalmologist performs eye surgeries and cataract operations twice a week to serve the growing needs of the poor community.
Apart from these operations, there are many cataract patients awaiting their turn and hence there is always a need to hold a regular 3-day Cataract Workshop twice every year. Our resident Ophthalmologist, Dr Lapam, together with the additional help of a few consultant ophthalmologists from other states, carries out these operations.
The next Eye Camp is scheduled to be held from 2-4 Nov 23 and 300 and more cataract surgeries alone are expected to be conducted during this period.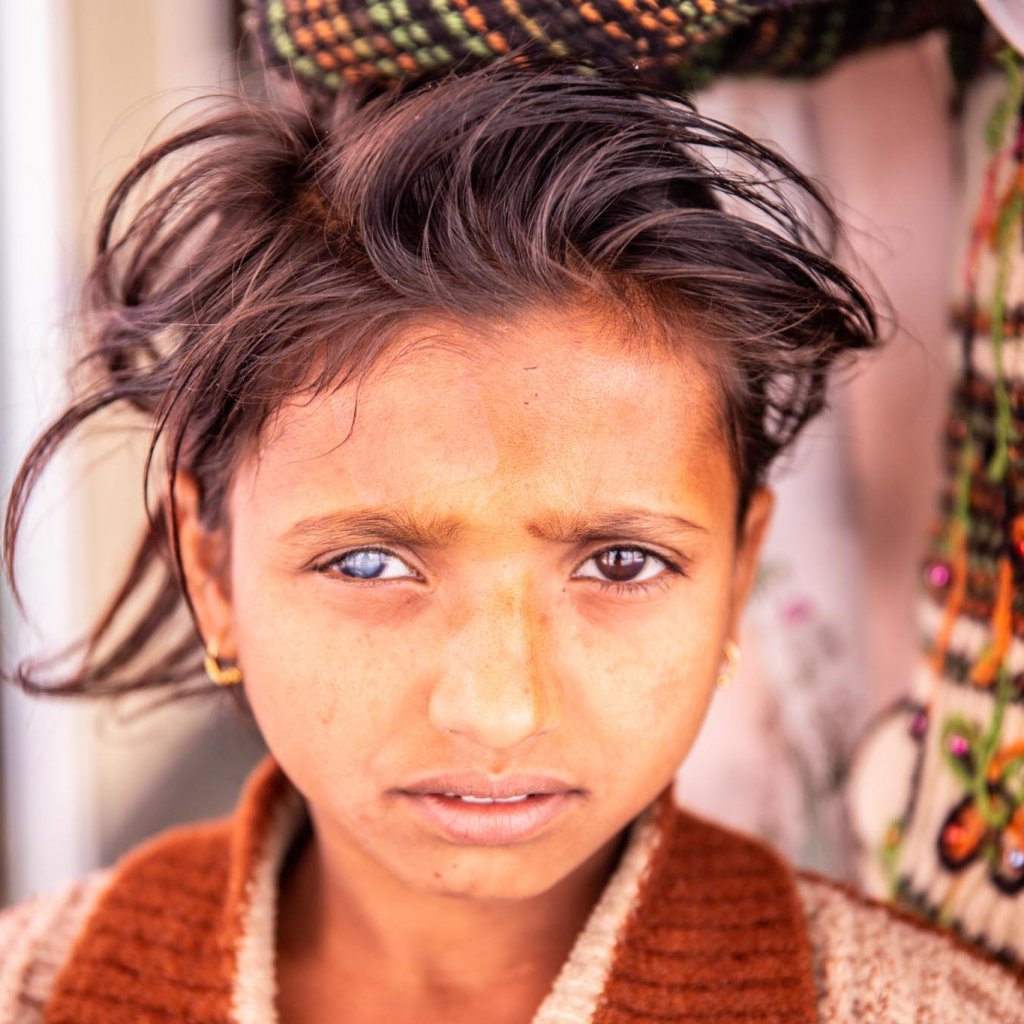 Heart Camp
The Hospital conducts regular heart disease check-up camps in association with Escorts Heart Institute & Research Centre – New Delhi. Renowned cardiologists run this Heart Camp. Hundreds of patients are seen and the genuine heart cases are screened and patients requiring serious attention such as pacemaker implantation or any cardiac surgeries are brought to Delhi for further treatment. Our specialist doctors perform the required procedures at a very nominal expense or sometimes it is even waived for those who are destitute and have no means to pay.
Testimonials
JKC – JKC-Mangarh Hospital's history is built on many stories – tales of life-changing moments, unforgettable patients, and extraordinary doctors and nurses. Let's hear from some of these individuals whose stories are all part of the fabric of JKC's history. Take a look at early photos of the hospital after it opened. It shows how JKC-Mangarh has continued to evolve to meet the needs of the poor villagers, expanding its physical structure, acquiring state-of-the-art medical equipment, and enhancing community services.
JKP Connect spoke to one of the very first doctors, Dr Dheer who helped to set up the hospital. He said, "I was a young MBBS doctor running a nursing home in Kunda in 1982. Jagadguru Shri Kripalu Ji Maharaj spoke to me about his desire to help the poor villagers. He asked me to help to set up a 5-bed hospital to serve the impoverished villagers in Mangarh who had no access to proper medical care. He was very clear in his mind about helping the poor villagers."
Dr. Dheer further reminisces, "Looking back, I realize that Jagadguru Shri Kripalu Maharaj was doing everything out of his Grace and compassion for humankind. His whole life was one of Grace and nothing but Grace. I feel so humbled to have been able to serve Him and his mission in my own small way." Dr Dheer has retired and is now residing in Mangarh as one of the 'ashramwasis.'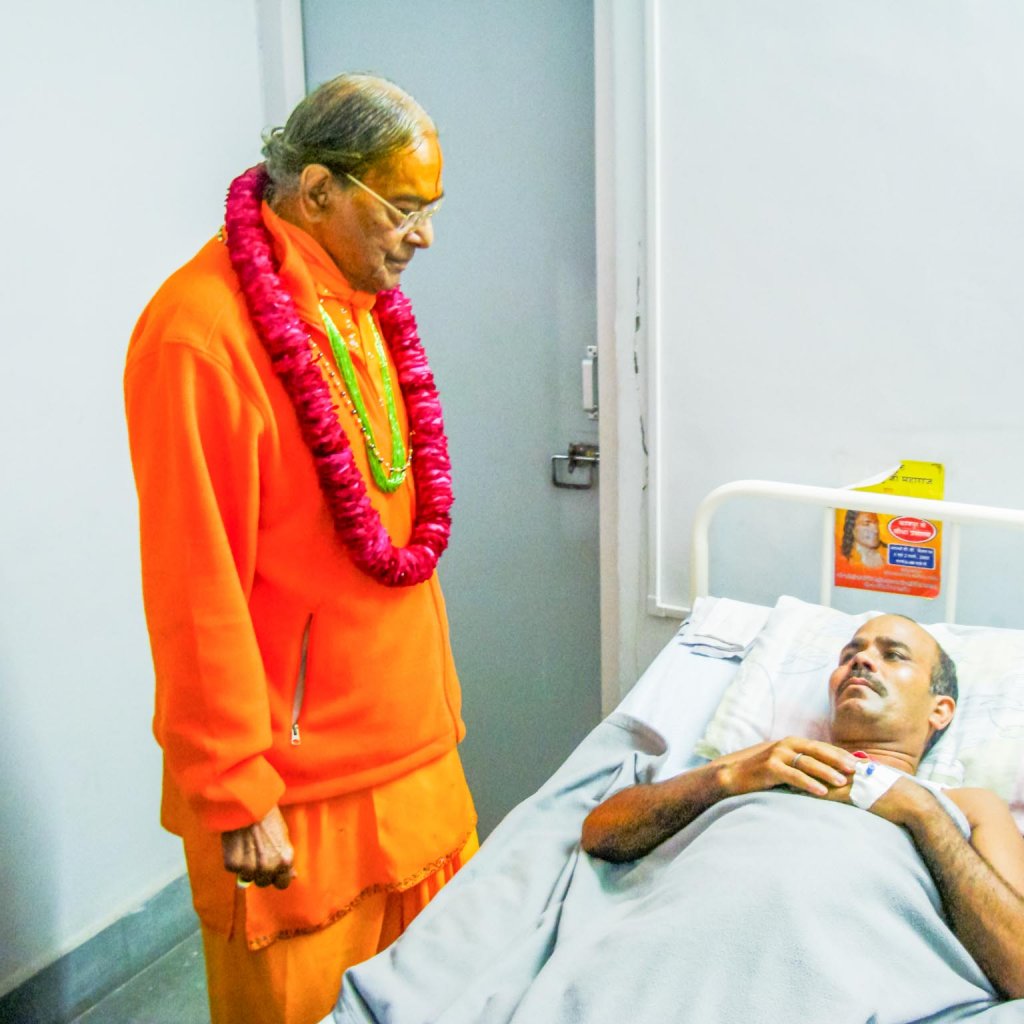 Dr Usha Arora, also one of Jagadguru Kripalu Chikitsalaya's pioneer resident doctors, nostalgically recalled those early times and said "Villagers started to throng the hospital in search of medical care in the early days. They were so poor and in desperate need of medical care for themselves and their families. The 5 beds soon became too few to accommodate the ever-growing patients in need of medical care. And so gradually, the hospital began to expand over the years. Today it has taken the shape of a modern hospital which is able to serve hundreds of patients on a daily basis with top class medical services and facilities." Dr Usha and Dr Das were among the first resident doctors recruited to serve in this hospital.
In this way, Jagadguru Kripalu Chikitsalaya has given hope to many patients with extraordinary medical conditions that jeopardized their lives. Pari, a fragile 3-year-old child suffering from a heart condition was successfully operated on by our team of consultant surgeons giving her a whole new lease of life. Nitu, a young girl of 9 years was robbed of her eyesight in a tragic accident. Our doctors successfully cured her and brought light into her life. Dev, a 4-year-old bubbly kid, coming from a poor home was diagnosed with brain TB and was suffering from high fevers, seizures, and unconsciousness. He, too, was cured and is today living a normal and happy life. Doctors themselves are sometimes bewildered by such cases and can only attribute it to the Grace of Jagadguru Shri Kripalu Ji Maharaj. Such are the amazing miraculous cures that have taken place at Jagadguru Kripalu Chikitsalaya.
We also spoke to the Hospital Administrator of those early days, Ms Dalpana Chouvan. She told us that Shri Kripalu Ji Maharaj would pay daily visits to the hospital to check on the patients. He would constantly suggest ways to make life easier for the patients, doctors, and nurses by way of providing a shelter outside the hospital as a waiting hall, so that villagers would not be inconvenienced during the hot summers and cold winters. He also advised setting up a token system whereby patients who were not able to see the doctor on the same day, due to the unprecedented rush, would be able to bring their token and get first priority the next day.
Ms Dalpana recalls, "Many patients used to come to our hospital as they had great faith in the doctors and nurses serving them. They believed that Shri Kripalu Ji Maharaji was a form of God and He would surely heal them."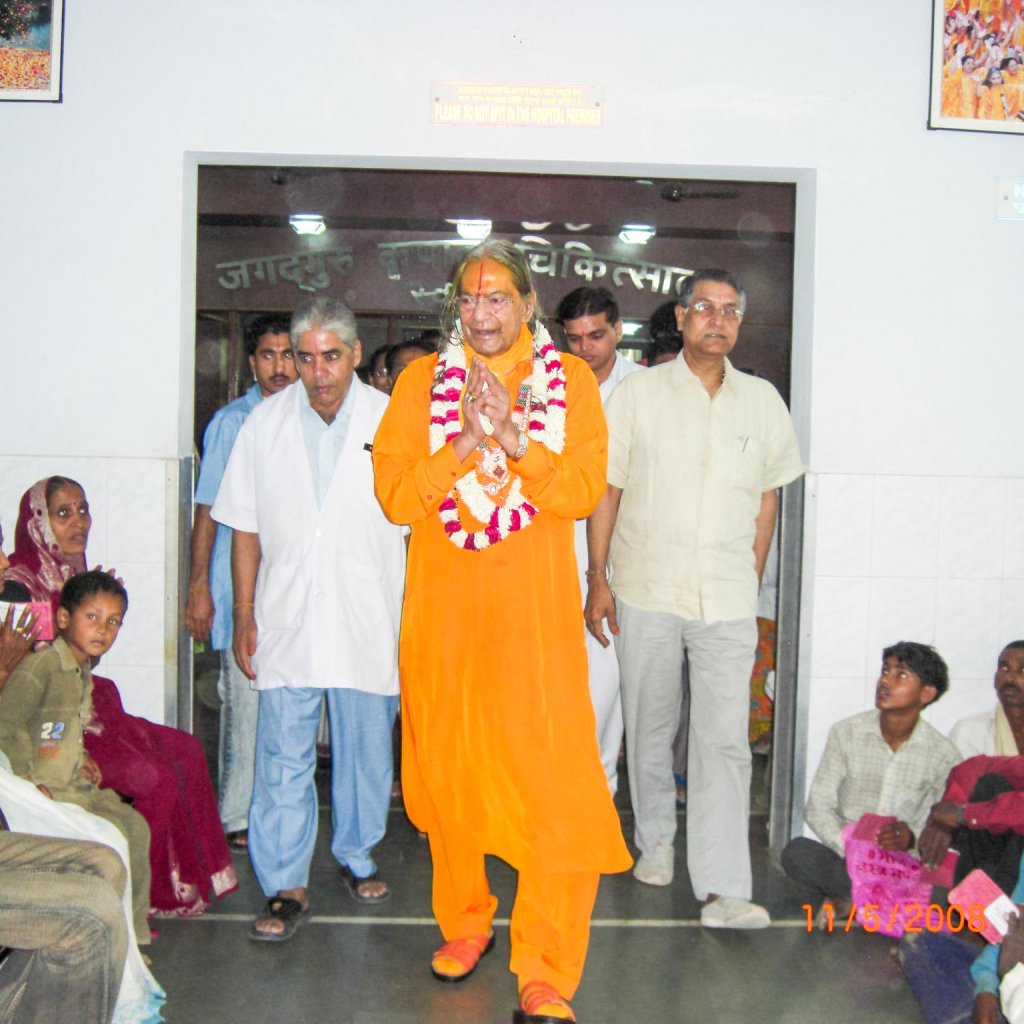 A young doctor working at this hospital told us that this was his very first job after graduating from medical college. He considered it a great privilege to be able to work in this hospital, serving the cause of his Divine Guru, Jagadguru Shri Kripalu Ji Maharaj. Further, he was pleased that he has managed to gain immense experience in dealing with patients with different medical conditions, which has helped him to enhance his skill sets. All the doctors working at the hospital feel a great sense of gratitude to their Guru, Jagadguru Shri Kripalu Ji Maharaj for showing them the true meaning of service and devotion.
Testimonials from hundreds of patients testify to the fact that this hospital has successfully touched the lives of so many patients. Their gratitude knows no bounds. An elderly patient told us, "Jagadguru Kripalu is very well known in this region. What can we say about Him? We are his children. Whether he gives us blessings or medicines, we will get well either way. He is the world's 'father.' Just by surrendering to him, a patient can get 50% better. Then, the medicine obviously makes us 100% better." A poor old lady with folded hands and deep gratitude said, "I pray to God that Shri Kripalu Ji Maharaj keeps gracing everyone in this way." Such is the fervor of the villagers towards Shri Kripalu Ji Maharaj. Such is their faith in Jagadguru Kripalu Chikitsalaya.
As we look back at 20 years of growth and achievements, we take pride in the progress made and the unwavering support received from the community. Today, JKC Mangarh is one of the largest hospitals in Kunda, Pratapgarh. It was able to serve and care for a record number of more than 145,000 patients in the year 2022 alone – a figure truly to be proud of.
Our doctors live by the motto, 'Manav ki sewa, Madhav ki sewa." Serving mankind is akin to serving God. All doctors, nurses, and team members of JKC believe in treating patients with love, respect, and compassion. They practice this believing that God resides within the patient they are treating and thus treat each one with great care and love.
Thus, with the divine guidance of Jagadguru Shri Kripalu Ji Maharaj, Jagadguru Kripalu Chikitsalaya – Mangarh under the auspices of JKP Presidents, Sushree HH Dr. Vishaka Tripathi, HH Dr. Shyama Tripathi, and HH Dr Krishna Tripathi, continues to be of service to the poor and the underprivileged sector of society and strives to reach even greater heights.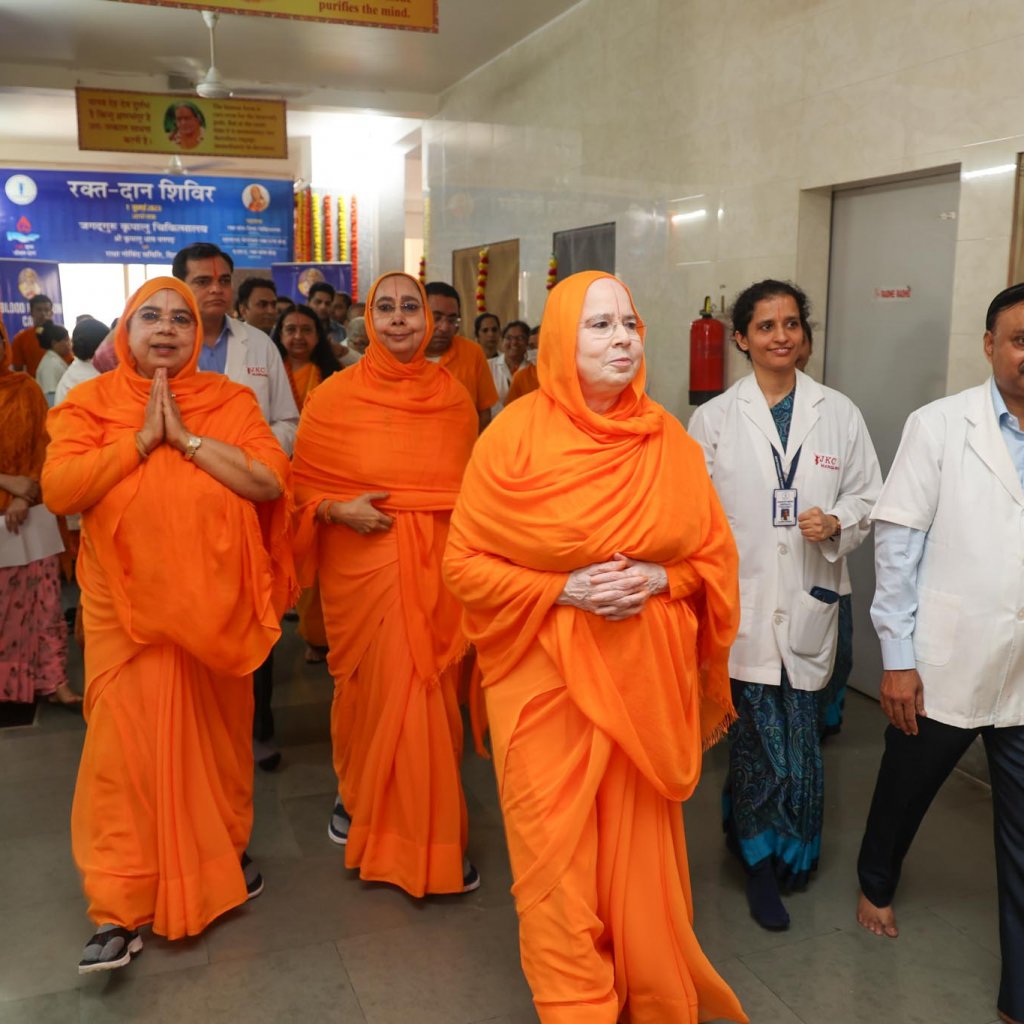 We would like to wish all the medical staff of Jagadguru Kripalu Chikitsalaya – Mangarh a very Happy 20th Anniversary and many more years of selfless service to humankind, as ordained by their beloved Guru, Jagadguru Shri Kripalu Ji Maharaj, whose sweet memories are the driving force behind each and everyone working here. As one young nurse said, "We pray to the all-merciful Lord to grant us all an unbroken association with our beloved Guru until eternity."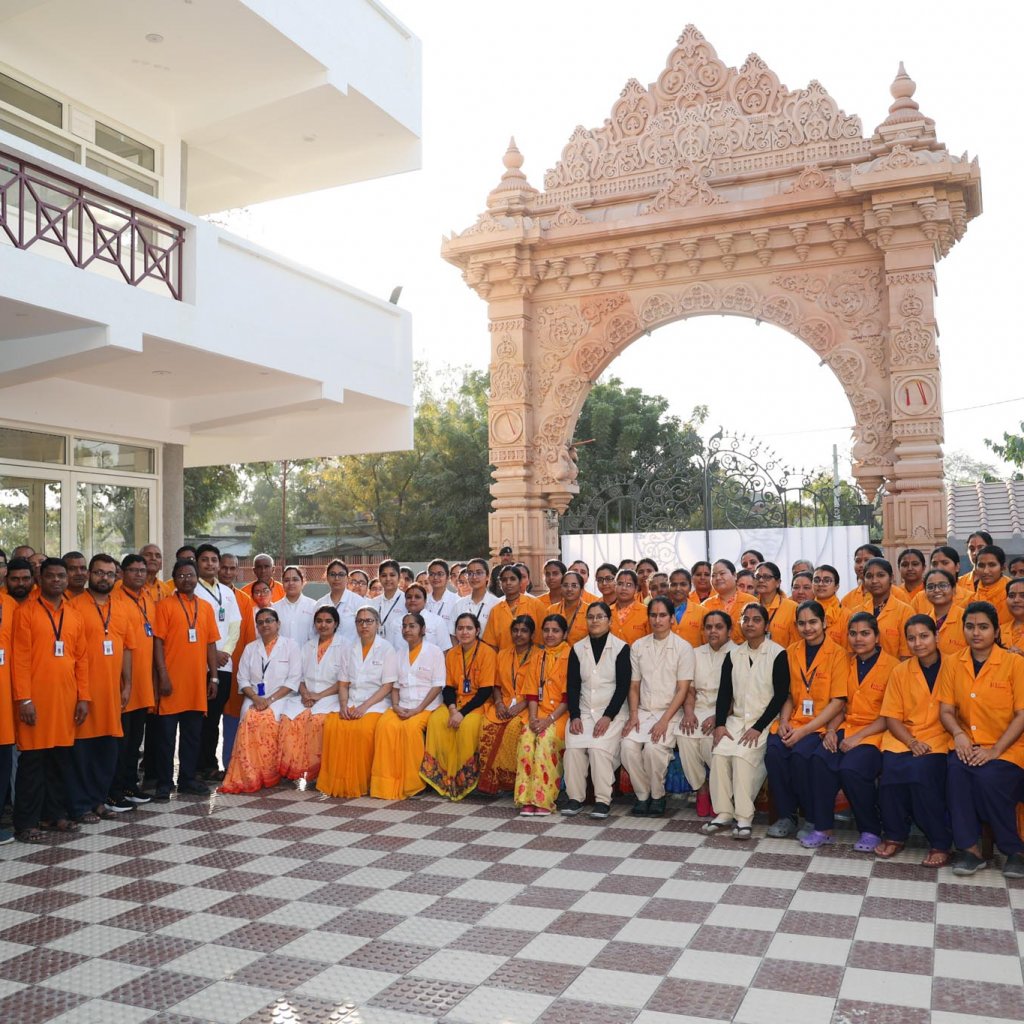 We call upon all our readers to support the vision of our Shri Gurudev and donate generously on this occasion of the 20th Anniversary of Jagadguru Kripalu Chikitsalaya, Mangarh.
Donate to www.jkp.org.in/donate today
*A brief introduction of Jagadguru Shri Kripalu Ji Maharaj*
(Known by His devotees as Shri Maharaj Ji)
The original title of Jagadguruttam ('Greatest Spiritual Teacher of the World') was bestowed upon Shri Kripalu Ji Maharaj on January 14, 1957, by 'Kashi Vidvat Parishad' (a council of 500 greatest scholars saints of India). He composed divine texts like 'Prem Ras Madira', 'Prem Ras Siddhant', and 'Radha Govind Geet' to lead us on the right path of devotion. He also gave priceless monuments as gifts to the world which include  -  Bhakti Mandir located in Bhakti Dham, Mangarh,  Prem Mandir located in Vrindavan Dham, and Kirti Mandir located in Barsana Dham. Shri Maharajji also built hospitals for the impoverished, the Jagadguru Kripalu Chikitsalaya in Vrindavan, Jagadguru Kripalu Chikitsalaya in Barsana, and another one in Pratapgarh. All three help millions of underprivileged to gain free access to medical care. His Kindergarten, School, and College for impoverished girls Jagadguru Kripalu Parishat Education is located in Kunda and provides completely free education.