The Golden Era of Devotion Part 2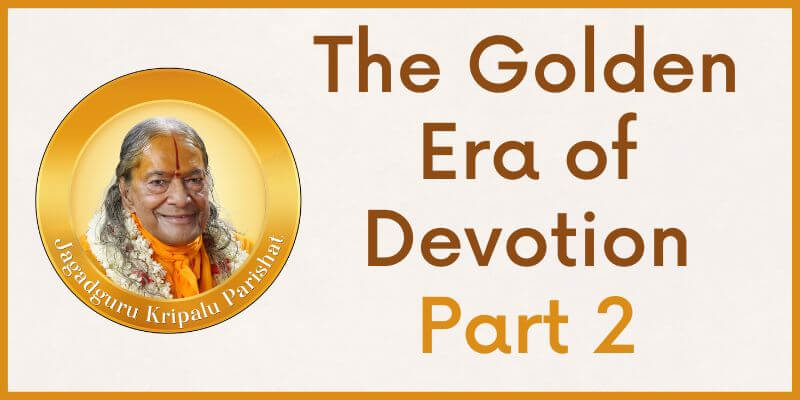 The Golden Era of Devotion – Part 2
*A brief introduction of Jagadguru Shri Kripalu Ji Maharaj*
(Known by His devotees as Shri Maharajji)
The original title of Jagadguruttam ('Greatest Spiritual Teacher of the World') was bestowed upon Shri Kripalu Ji Maharaj on January 14, 1957 by 'Kashi Vidvat Parishad' (a council of 500 greatest scholars saints of India). He composed divine texts like 'Prem Ras Madira', 'Prem Ras Siddhant', and 'Radha Govind Geet' to lead us on the right path of devotion. He also gave priceless monuments as gifts to the world which include  -  Bhakti Mandir located in Bhakti Dham, Mangarh,  Prem Mandir located in Vrindavan Dham, and Kirti Mandir located in Barsana Dham. Shri Maharajji also built hospitals for the impoverished, the Jagadguru Kripalu Chikitsalaya in Vrindavan, Jagadguru Kripalu Chikitsalaya in Barsana, and another one in Pratapgarh. All three help millions of underprivileged to gain free access to medical care. His Kindergarten, School, and College for impoverished girls Jagadguru Kripalu Parishat Education is located in Kunda and provides completely free education.
Jagadguruttam Shri Kripalu Ji Maharaj's life was his message and he practised what he preached. For decades, he travelled far and wide to propagate the path of Divine Love, leading many thousands of spiritually, impoverished souls to taste the sweetest of devotional nectars. He worked tirelessly to rejuvenate and re-establish true Vedic philosophy throughout the entire world.
His instigation of Sadhana Intensives is just one of an unending list of works and efforts he made for the upliftment of humankind. The first Sharat Purnima Sadhana Intensive took place over 15 days at Brahmand Ghat, on the banks of the Yamuna River from 21 October 1964. It was the first step taken towards the commencement of a regular yearly programme for sadhaks to practise true devotion, sacrificing the comforts of their daily life for at least one month, devoting it in the true service of God and Guru and immersing themselves in the sweet intoxication of love for the Divine.
On his 100th Centenary celebrations, we bring you exclusive details of how this programme had evolved and how Shri Maharaj Ji adapted it to the changing times and needs of the people. As the celebrations draw closer, aspiring devotees under the guidance of Jagadguru Shri Kripalu Ji Maharaj feel a sense of gratitude which is difficult to express. Over the last many years, our causelessly gracious Spiritual Master had given Himself completely during his Sadhana Intensives. He metaphorically dug up the dormant spiritual seed buried deep within our hearts and brought it to the surface of our awareness. Sheltering it with the protective qualities of his spiritual knowledge, he then taught us how to nurture it using the sweetest devotional nectar in the form of sankirtans. Today, the kernel of devotion is being prised open in the hearts and minds of more and more people from all walks of life.
All glories to the great master who undauntedly travelled far and wide in heat and cold, in rain and sunshine, through a storm or in a cool breeze, without any rest and without any concern for his own comfort. Sometimes, travelling by air, sometimes by train and sometimes in a car, even using public transport, he would reach any desired destination at any time. It is beyond human comprehension, how he showered the divine nectar of devotion at one place, and then in the middle of the night move to some other place, capturing the hearts of those thirsty souls pining for divine love, who were unable to approach him due to constraints of time, distance or money.
Ever fresh, ever new, ever smiling, ever loving and ever energetic are but a few characteristics of his wonderful unique personality. He would forget his own self to tour from one place to another, from village to village, town to town, city to city, province to province, from door to door, from lane to lane and from one holy place to another. From Vrindavan to Ayodhya, from Ayodhya to Mathura, from Mathura to Rameshwaram, from Rameshwaram to Dvarika, from Dvarika to Jaganath Puri, from Jaganath Puri to Shree Nath, from Shree Nath to Pashupati Nath (Nepal) and from Pashupathi Nath back to Mangarh Dham. He traversed vast distances with great zeal without experiencing any tiredness. Once he mockingly said, "I never feel tired. Weariness remains far away from me," His wittiness and sense of humour was irresistible. He would be on his way to one place and then instruct his driver to take him somewhere else! All of sudden he would arrive at the undisclosed destination; reaching his dear ones and making them run helter-skelter; enjoying their play as it unfolded.
He was restless to immerse worldly people in the ocean of love. His each and every moment was devoted to planning and practice, i.e. how to approach people to awaken them and then how best to explain to them the goal of life, that would make them practise true devotion, that transcends rites and rituals. Day and night lost all meaning to him. Rising at 1.00 am, sometimes at even 12.00 midnight – he would travel from one place to another. People would find him at one place in the morning and in the evening he would be seen at some other place. Without any prior notice or extensive preparation, he would surprise his devotees, responding to their love and attracting many more new souls to move on the supreme path of devotion.
Those tormented relentlessly by the blows of materialism would realise their folly, "Oh! We have wasted our precious human life" and they would surrender to him with great love and implore him to shower his grace. Our great Spiritual Master – an apostle of love and compassion cast his merciful glance upon them all, transforming their lives in the blink of an eye, from an agnostic to a lover, from a non-believer to a believer. Strange indeed were his ways. He just loved to be on the move so he could spiritually benefit more and more people.
His greatest gift to humanity is his unique philosophy of Divine Love that liberates suffering souls and intensely inundated loving souls. He realised the need to sow the seed of devotion in the hearts of suffering souls, totally engrossed in sensual pleasures, not only within India but in foreign countries as well. So to awaken the sleeping souls, he undertook his first global tour in the year 2005, and travelled overseas again to many countries in 2007. In doing so, he won the hearts and souls of many more people from diverse backgrounds, who were drawn inexplicably to his magnetic personality, even though they did not understand any Hindi. Remaining captivated, they came to understand in a proper manner, what the purpose of this human life is.
Whether Shri Maharaj Ji was within India or abroad, he always adapted his style accordingly. Despite being Jagadguruttam and holding the highest of spiritual accolades, he never hesitated to drape himself in the traditional dress of the place, culture or faith where he was staying. He would seem like a Rajasthani in Rajasthan, a Gujarati in Gujarat, an Odia in Odisha, a Bengali in Bengal, a Nepali in Nepal and a Punjabi in Punjab. In other countries, too, according to their traditions, he happily sat with them on their level.
Like a classmate or friend, he joined in with them, admiring their spiritual practice of their favoured god or goddess, before convincing them through spiritual principles of the scriptures, that they should simply water the root, and the leaves and branches themselves will automatically be nourished. Quoting spiritual texts, he proved that he is not teaching anything in disagreement to the words of scriptures, and that they should know that the essence of all wisdom is nishkam bhakti, selfless devotion to Shri Krishna, the Supreme Lord.
Shri Maharaj Ji personally trained a number of preachers from different backgrounds, castes and nationalities to spread the Vedic philosophy of Divine Love to the world at large. They too travel far and wide, giving discourses in the name of Jagadguru Shri Kripalu Ji Maharaj and based entirely on his teachings. Operating like spiritual mediators, they help people new to spiritual concepts, bridge the gap that exists between someone fully engrossed in the world, and someone who accepts God and Guru.
Shri Maharaj Ji seemed to consume his life like a candle. Just as a candle burns brightest before it goes out, similarly in his later years, Shri Maharaj Ji travelled extensively showering his utmost love and grace on all the devotees without caring for his own health or comfort. Despite being hospitalised himself on 18 March 2013 and then requested by doctors to curtail his travelling, as soon as he felt well enough, he resumed his full programme as if nothing had happened. He took with him an entourage of helpers that ensured his satsang and sankirtans could be staged as intensively as people wanted, anywhere.
The abundance of diversity in Shri Maharaj Ji's satsang today reflects the multifarious work undertaken by Shri Maharaj Ji's preachers. People from a number of cultures come and engage in Shri Maharaj Ji's satsang and sankirtan, irrespective of whether they understand everything or not. People from the most distant of places, who would never have thought of coming to Bhakti Dham found themselves buckled into airplanes and clambering onto trains heading for a little-known rural village which was, for all intents and purposes, in the middle of nowhere.
Today, during these times when Shri Maharaj Ji's physical presence is unseen, his message and sankirtans continue to reach and attract more and more people. Continuing his legacy of love, his three learned daughters, Sushri Dr Vishakha Tripathi Ji, Sushri Dr Shyama Tripathi Ji and Sushri Dr Krishna Tripathi Ji, following in his footsteps, being fully dedicated to the service of humanity are propagating his message of Divine Love and devotion travelling far and wide throughout the country.