The Science of Sankirtan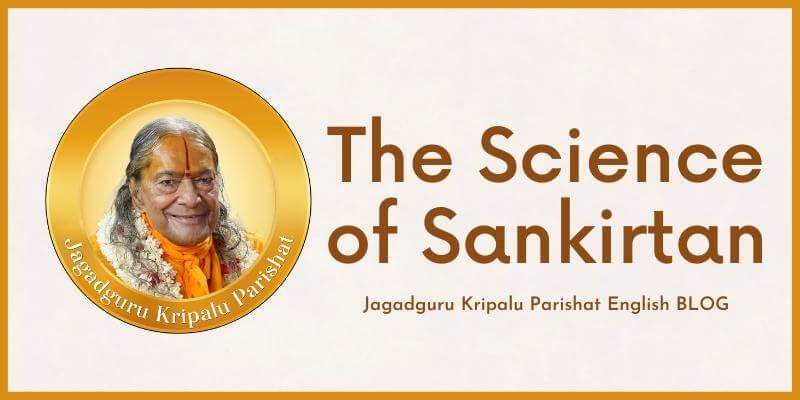 The Science of Sankirtan
*A brief introduction of Jagadguru Shri Kripalu Ji Maharaj*
(known by His devotees as Shri Maharajji)
The original title of Jagadguruttam ('Greatest Spiritual Teacher of the World' ) was bestowed upon Shri Kripalu Ji Maharaj on January 14, 1957 by 'Kashi Vidvat Parishad' (a council of 500 greatest scholars & saints of India). He composed divine texts like 'Prem Ras Madira', 'Prem Ras Siddhant', and 'Radha Govind Geet' to lead us on the right path of devotion. He also gave priceless monuments as gifts to the world which include  -  Bhakti Mandir located in Bhakti Dham, Mangarh,  Prem Mandir located in Vrindavan Dham, and Kirti Mandir located in Barsana Dham. Shri Maharajji also built hospitals for the impoverished, the Jagadguru Kripalu Chikitsalaya in Vrindavan, Jagadguru Kripalu Chikitsalaya in Barsana, and another one in Pratapgarh. All three help millions of underprivileged to gain free access to medical care. His Kindergarten, School, and College for impoverished girls Jagadguru Kripalu Parishat Education is located in Kunda and provides completely free education.
The Science of Sankirtan
(As revealed by Jagadguru Shri Kripalu Ji Maharaj)
Sadhana or Devotional Practice is to shed tears of longing for the Divine Vision of Shri Radha Krishna, singing the glories of their names, qualities, pastimes, abodes and associates along with their Rupadhyana, the visualisation of the divine forms of Shri Radha Krishna. You are free to choose any form, but whatever form you visualise, you must feel that it is Divine.
Always feel the presence of Shri Krishna with you. Abandon all desires up to the desire for liberation. Practice devotion only with the desire of attaining selfless divine love. Develop strong faith that Shri Krishna alone is yours and intensify your yearning for him.
While giving public speeches, Shri Kripalu Ji Maharaj also distributed indescribable bliss through his enthralling nama and lila sankirtans. In fact, his satsang had become so eagerly sought that in 1964, Shri Maharaj Ji decided to conduct a designated Sadhana programme starting from the auspicious night of Sharat Purnima, so that the people he had met all over India could come and collectively benefit.
Prior to Shri Maharaj Ji, people were simply told that you have to meditate; you have to remember God. But what remembering God actually entailed, what meditation on the form of God actually meant, nobody had ever explained it. No other Jagadguru or Saint in our history described the technique of concentration or focusing the mind on the divine form of God like Shri Maharaj Ji did.
Shree Maharaj Ji gave this kind of meditation a name – 'Rupadhyana' – thereby clarifying that meditation or dhyana means to focus the mind on the divine form of God. Any aspirant seeking to understand this properly inevitably had other questions that would arise from this such as, "When you say that we have to focus on the divine form of God, I have not seen God! How can I focus on His form? Shri Maharaj Ji meticulously explained the technique of doing this as well. There were so many answers given over decades so casually and so lovingly by Shri Maharaj Ji, asked by inquisitive members of the public, who later become aspiring devotees. Shri Maharaj Ji explained all this and much, much more for the first time in the history of India.