The Significance of Akshay Tritiya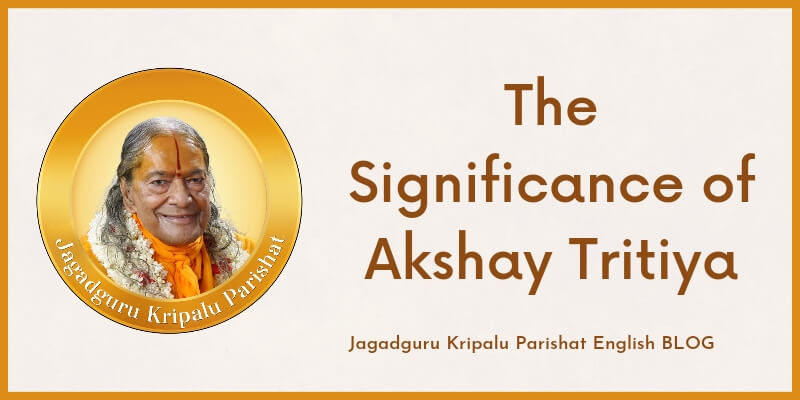 The Significance of Akshay Tritiya
Akshay Tritiya is a festival relating to Lord Krishna. Akshay means "unlimited." There are many stories relating to this festival, however, the main significance of this festival is to surrender ourselves physically, financially and mentally at the Lotus Feet of Lord Krishna.
The charity given on this day yields unlimited fruit.
Everyone, whether rich or poor, should donate today, according to their capacity. Mainly gold is given to charity on this day. However, materialistic people have misinterpreted the significance of this day and buy gold for themselves instead of donating it. They naively believe that in doing so, Lakshmi, the Goddess of Wealth, will visit their homes and bless them with abundant wealth.
The sole purpose of every holy day is to remind us to serve God. You should engage your body and mind in the service of God. This has to be done by everyone, whether rich or poor. After all, we have only these three with us – body, mind and wealth with which we can serve and worship God.
Akshay Tritiya is one such auspicious day where everyone, including householders. can practise devotion so that one can at least receive a human life in our next birth. Otherwise this rare privilege will be snatched away from us.
(Excerpts of a Lecture given by Jagadguru Kripalu Ji Maharaj)
*A brief introduction of Jagadguru Shri Kripalu Ji Maharaj*
(Known by His devotees as Shri Maharajji)
The original title of Jagadguruttam ('Greatest Spiritual Teacher of the World') was bestowed upon Shri Kripalu Ji Maharaj on January 14, 1957 by 'Kashi Vidvat Parishad' (a council of 500 greatest scholars saints of India). He composed divine texts like 'Prem Ras Madira', 'Prem Ras Siddhant', and 'Radha Govind Geet' to lead us on the right path of devotion. He also gave priceless monuments as gifts to the world which include  -  Bhakti Mandir located in Bhakti Dham, Mangarh,  Prem Mandir located in Vrindavan Dham, and Kirti Mandir located in Barsana Dham. Shri Maharajji also built hospitals for the impoverished, the Jagadguru Kripalu Chikitsalaya in Vrindavan, Jagadguru Kripalu Chikitsalaya in Barsana, and another one in Pratapgarh. All three help millions of underprivileged to gain free access to medical care. His Kindergarten, School, and College for impoverished girls Jagadguru Kripalu Parishat Education is located in Kunda and provides completely free education.