The Story behind Tulsi Vivah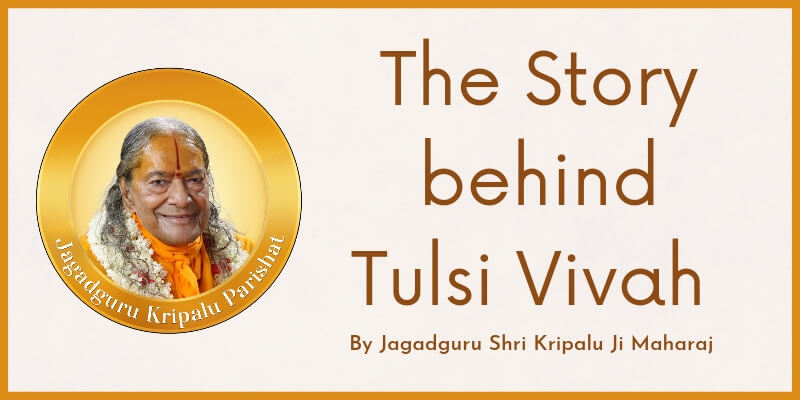 By Jagadguru Shri Kripalu Ji Maharaj
Tulsi Vivah
(Speech given by Jagadguru Shri Kripalu Ji Maharaj on the occasion of Tulsi Vivah)
This is a very important festival of Shri Krishna. There was a demon named Jalandhar. His wife's name was Vrinda. She was a loyal wife. Therefore, no one could kill her demon husband.
All the celestial beings were forced to run away from their respective abodes because of his atrocities. So they all went to God for help and said, "He is a very dangerous demon but nobody can kill him because of his wife's vow." Everyone asked God for a solution. Shri Krishna said, "I will think of something."
Shri Krishna is God Himself! Who, in this whole universe, man or woman, will not get attracted to Him?" So Shri Krishna went to the demon's wife, when the demon was not at home. Naturally, the wife got attracted to Shri Krishna and therefore, her loyalty to her husband was broken.
Although, loving Shri Krishna does not make a married woman disloyal . In this case, it was accepted that Vrinda's vow of loyalty (Pati Vrata) had been broken (since this was the sole purpose). When Vrinda realised this, she cursed Shri Krishna to become a stone. She cursed Him and said, "Because of your fraud, my vow broke and my husband has died. I have become a widow because of you."
It is this form of Shri Krishna which is called "Shaligram" and it looks like a round black stone. Shri Krishna said, "Ok, I will become a stone if you want that. I am omnipresent anyway." The demon's wife said to Shri Krishna, "Now since you broke my vow of loyalty, you will have to marry me." She put this additional condition in front of Shri Krishna.
Thus, Shri Krishna promised to get married to her, in her next birth (in a different female body). In her next birth, her name was Tulsi and she got married to Shri Krishna. This was a 'declared' marriage just like the one Shri Krishna had with Shri Laxmi (who was also Rukmini Ji).
But you all worship Shri Krishna as your Beloved, and not as your husband. Loving your Beloved means when one loves someone secretly, without getting married. It is also known as adulterer love.
So today, we are going to enact this wedding scene. Shri Krishna is already in the temple and Tulsi will be brought to the courtyard. She will be all dressed up like a bride. Shri Krishna will come with his people (baaratis) in a procession from the temple to marry Tulsi.
Everyone who follows the philosophy that I preach, worships Shri Krishna as their Beloved. Therefore, all men and women, who love Shri Krishna as their beloved, should take one Tulsi leaf in their hand and take seven sacred rounds with Shri Krishna. In the eyes of the world, Tulsi will be getting married to Shri Krishna, but all devotees of Madhurya bhav will marry Him secretly too today.
*A brief introduction of Jagadguru Shri Kripalu Ji Maharaj*
(Known by His devotees as Shri Maharajji)
The original title of Jagadguruttam ('Greatest Spiritual Teacher of the World') was bestowed upon Shri Kripalu Ji Maharaj on January 14, 1957 by 'Kashi Vidvat Parishad' (a council of 500 greatest scholars saints of India). He composed divine texts like 'Prem Ras Madira', 'Prem Ras Siddhant', and 'Radha Govind Geet' to lead us on the right path of devotion. He also gave priceless monuments as gifts to the world which include  -  Bhakti Mandir located in Bhakti Dham, Mangarh,  Prem Mandir located in Vrindavan Dham, and Kirti Mandir located in Barsana Dham. Shri Maharajji also built hospitals for the impoverished, the Jagadguru Kripalu Chikitsalaya in Vrindavan, Jagadguru Kripalu Chikitsalaya in Barsana, and another one in Pratapgarh. All three help millions of underprivileged to gain free access to medical care. His Kindergarten, School, and College for impoverished girls Jagadguru Kripalu Parishat Education is located in Kunda and provides completely free education.