The True Meaning of Diwali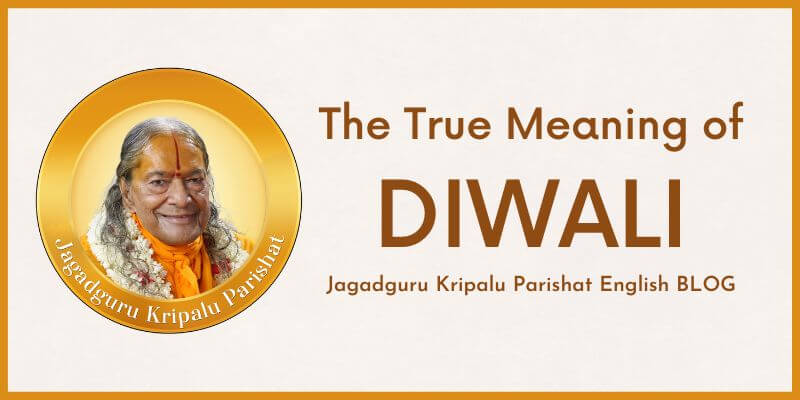 The True Meaning of Diwali
Diwali, also called Deepawali, is one of the most popular festivals in India. As per the Hindu calendar, Deepavali is celebrated on the new moon night, 15th day in the month of Kartik. Diwali symbolises the spiritual "victory of light over darkness, good over evil, and knowledge over ignorance".
Diwali is celebrated as it marks the return of Lord Ram to Ayodhya, following his 14 years of exile and after defeating the demon king, Ravana. During this exile, the wicked king Ravana of Lanka abducted Sita. After a lot of hurdles, Lord Rama finally vanquished Ravana and saved Sita. In joyous celebration of this victory and the return of King Rama, the people of Ayodhya rejoiced by illuminating the kingdom with earthen diyas, distributing sweets and by setting off firecrackers, a tradition still followed by all Hindus. The entire city of Ayodhya was illuminated with the lights of the diyas, as were their hearts. Since Treta Yug, this day continues to be celebrated every year to commemorate the return of Lord Shri Ram to Ayodhya.
Our scriptures further reveal that the first night after Shri Ram's arrival from the forest, Goddess Mahalakshimi secretly appeared and showered gold coins in the homes of all the residents of Ayodhya. In the present time, most people blinded by greed for wealth, perform prayers to Goddess Mahalakshimi, at night to please her, so that she can shower us with wealth and prosperity, little realising that the residents of Ayodhya performed single-minded devotion to the lotus feet of Shri Ram.
So, on the day of Diwali, while we should clean up our homes, decorate the altar, dress up the deities and adorn them with new clothes, prepare a variety of delicious food to offer to the Lord; the most important thing to remember, is to celebrate the festival by chanting the Divine names of the Lord, while singing the glories of their beauty and loving pastimes with friends and family. The real objective behind celebrating any festival is to remember God. Through the festivals, God grants us the golden opportunity to remember Him constantly while conducting all our daily activities. This will purify your mind and you will start to attain spiritual bliss and divine grace. If you make this part of your daily practice, then one day you will realise God and attain his Grace.
Gai lakhi, Dipavali balihara
(A beautiful depiction of a Leela of Shri Radha Krishna on the auspicious occasion of Diwali –
for Roopdhyan – By Jagadguru Shri Kripalu Ji Maharaj – Prem Ras Madira )
Jagamaga-jagamaga jagamagata giri, govardhana rijhavara
lakhi jaki bamki jhamki kaham, dauns baikunthahum vara
ita lalitadi sakhina samga viharati, alabeli sarakara
uta madhumangaladi sanga kridata, nagara nandakumara
nija-nija saja saji dou dala chala, manasi-ganga majhara
ika tata natakhata dala ika tata dala, rajata bhanudulara
dou dala nija-nija kanaka-dipakana, daryo jala majhadhara
dou kara amjurina jala halakorata, dipana-chhavi chhavidara
jhalamalata dou dala dipavali, hila mila bhaye ikasara
lakhi kripalu" kaha, puni-puni jaya ho, dipavali shringara
Translation:
Oh sakhi! I offer my heart and soul on the engaging sight of Diwali celebration. Mount
Govardhana is sparkling with burning earthen lamps. Seeing such a remarkable spectacle, I
sacrifice even the splendour of Baikuntha on it. On the one side, Kishori Ji is sporting with
Lalita and other sakhis and on the other side, Shyamsundara is playing with Madhumangal
and other friends. Equipped with their respective paraphernalia, both the groups take off for
Manasi Ganga. Kishori Ji beautifies one bank of the river with Her group and
Shyamsundara, the other with His. Both the groups light their golden lamps and set them
afloat in the river. Then they begin to toss the water to speed up the movement of the
lamps. Such a scene is truly worth seeing! The burning lamps set afloat from both sides
are joining in the middle of the Manasi Ganga. Looking at the lovely scene, Jagadguru Shri
Kripalu Ji acclaims, "Hail to the bewitching sight and hail to the splendour of Diwali."
*A brief introduction of Jagadguru Shri Kripalu Ji Maharaj*
(Known by His devotees as Shri Maharajji)
The original title of Jagadguruttam ('Greatest Spiritual Teacher of the World') was bestowed upon Shri Kripalu Ji Maharaj on January 14, 1957 by 'Kashi Vidvat Parishad' (a council of 500 greatest scholars saints of India). He composed divine texts like 'Prem Ras Madira', 'Prem Ras Siddhant', and 'Radha Govind Geet' to lead us on the right path of devotion. He also gave priceless monuments as gifts to the world which include  -  Bhakti Mandir located in Bhakti Dham, Mangarh,  Prem Mandir located in Vrindavan Dham, and Kirti Mandir located in Barsana Dham. Shri Maharajji also built hospitals for the impoverished, the Jagadguru Kripalu Chikitsalaya in Vrindavan, Jagadguru Kripalu Chikitsalaya in Barsana, and another one in Pratapgarh. All three help millions of underprivileged to gain free access to medical care. His Kindergarten, School, and College for impoverished girls Jagadguru Kripalu Parishat Education is located in Kunda and provides completely free education.