The Uniqueness of Shri Kripalu Maharaj Ji's Discourses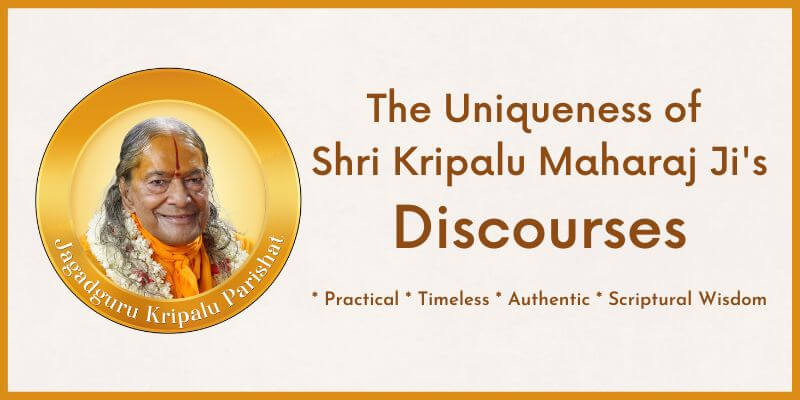 The Uniqueness of Shri Kripalu Maharaj Ji's Discourses
* Practical * Timeless * Authentic * Scriptural Wisdom
*A brief introduction of Jagadguru Shri Kripalu Ji Maharaj*
(Known by His devotees as Shri Maharajji)
The original title of Jagadguruttam ('Greatest Spiritual Teacher of the World' ) was bestowed upon Shri Kripalu Ji Maharaj on January 14, 1957 by 'Kashi Vidvat Parishad' (a council of 500 greatest scholars & saints of India). He composed divine texts like 'Prem Ras Madira', 'Prem Ras Siddhant', and 'Radha Govind Geet' to lead us on the right path of devotion. He also gave priceless monuments as gifts to the world which include  -  Bhakti Mandir located in Bhakti Dham, Mangarh,  Prem Mandir located in Vrindavan Dham, and Kirti Mandir located in Barsana Dham. Shri Maharajji also built hospitals for the impoverished, the Jagadguru Kripalu Chikitsalaya in Vrindavan, Jagadguru Kripalu Chikitsalaya in Barsana, and another one in Pratapgarh. All three help millions of underprivileged to gain free access to medical care. His Kindergarten, School, and College for impoverished girls Jagadguru Kripalu Parishat Education is located in Kunda and provides completely free education.
IN THIS AGE OF KALI, we are witness to a growing prevalence of bogus gurus, so-called saints who neither possess knowledge of the scriptures nor practical experience of God.
Such imposters go about deceiving innocent people in the name of God every day. In such shameful times, the Supreme Spiritual Master of the World, the fifth original Jagadguru, Jagadguru Shri Kripalu Ji Maharaj came and dispelled the darkness of ignorance and confusion in the hearts of millions.
Through his unique disquisition on the science of divine love devotion, presented in a compelling understandable style, he revealed the one and only true path for the attainment of divine love for all humankind.
SHRI KRIPALU JI MAHARAJ was the rejuvenator of the divine knowledge contained within our eternal Vedic scriptures, as well as being the reconciler of all spiritual philosophies prevalent in the contemporary world. By revealing the true philosophy of the Vedas and Upanishads, he illuminated the highest, yet simplest path to meet God and attain His divine love. His revelations dispelled every conceivable doubt in the minds of common people about the ultimate aim and attainment of this precious human life.
THE SECRET behind the greatness of Shri Maharaj Ji's recitation lay in its simplicity. He effortlessly presented the most profound knowledge contained within Vedic teachings, using examples from day-to-day life, baffling intellectuals with their brilliance and warming the hearts of common people. This never-before-seen ability to explain seemingly incomprehensible concepts that Shri Maharaj Ji possessed in such abundance was truly amazing. Seated in his audience, one felt as if his discourse (being delivered to thousands) was more akin to a one-on-one conversation with him; such was the feeling of closeness he nurtured with every audience member. This extraordinary quality can only be found in a true Saint, who also has practical experience of God. Every word uttered was authenticated by our Vedic tradition, in the form of innumerable scriptural quotations. His charismatic, yet enigmatic personality left an everlasting impression in the minds of his audience.
Many a time when his prodigious ability to quote the numbers of verses and chapters from the Vedas, Upanishads, etc. was on display, audiences wondered whether the scriptures had actually manifested before him, bowing in all humility and requesting to serve him for their own self-gratification and emancipation. This breathtaking ability was publically seen, praised and honoured by 500 of India's elite scriptural scholars, collectively known as Kashi Vidvat Parishat, who unanimously bowed before him, requesting he accept seven epithets they had written in an attempt to convey his brilliance. The first was shrimat-padvakya-pramana-paravarina, the greatest scholar with unsurpassed knowledge of the Vedas and all scriptures of the world, and the last was Jagadguruttam, the supreme among all Jagadgurus.
The ELOQUENCE of his oratory – sweet and loving; authoritative and powerful – meant that he was able to keep his audience in rapt attention for hours. Even those fully engrossed in the world coming for the very first time, would soon find themselves sitting motionless while listening to his captivating and thought-provoking explanations. In fact, many came to him who could not understand even a smidgen of Hindi, let alone Sanskrit or the Vedas and Shastras, and yet they too were irresistibly and indescribably drawn to him. Every discourse he delivered seemed unique in its own way, and yet the philosophy he propagated remained the same throughout his entire life, never deviating even for a moment. His devotees never tire of listening to his discourses again and again, finding something new in them every time. His salvo of references and quotations were not limited to the Upanishads, Vedas, Puranas, Ramayana, Bhagavatam, Gita, etc. but included and embraced the philosophy within the Bible and Quran, showing the universality of the path of selfless love and devotion that he recommended. He was without peer in his reconciliation of existing philosophies in the world. It is therefore no surprise that those scholars of Kashi humbly requested him to accept the title of nikhil-darshan-samanvay-acharya, the reconciler of the seemingly contradictory philosophical views of the world.
The truth is, however, that for people still suffering under the sway of maya, they can never fully comprehend the divinity imbued in his discourses. Nevertheless, what is clearly evident is that whosoever is fortunate enough to hear them, even with a disinterested mind, cannot help but develop a subtle bond with his Beloved Shri Radha Krishna. Such a person's desire and longing to meet Them sprouts and begins to intensify. Every discourse of Shri Maharaj Ji's is like an ocean of divine knowledge, condensed into a small vessel for people to take and understand, be they his ardent devotee or a member of the general public. Shri Maharaj Ji had a remarkable ability to melt even the most stone-hearted stubborn soul.