The Golden Era of Devotion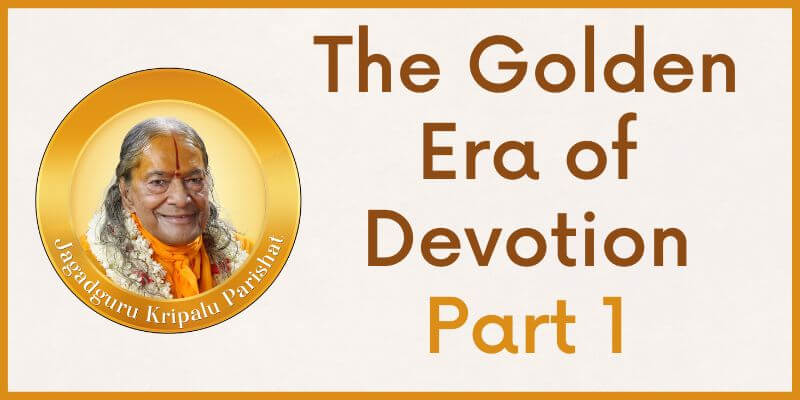 The Golden Era of Devotion
*A brief introduction of Jagadguru Shri Kripalu Ji Maharaj*
(Known by His devotees as Shri Maharajji)
The original title of Jagadguruttam ('Greatest Spiritual Teacher of the World' ) was bestowed upon Shri Kripalu Ji Maharaj on January 14, 1957 by 'Kashi Vidvat Parishad' (a council of 500 greatest scholars saints of India). He composed divine texts like 'Prem Ras Madira', 'Prem Ras Siddhant', and 'Radha Govind Geet' to lead us on the right path of devotion. He also gave priceless monuments as gifts to the world which include  -  Bhakti Mandir located in Bhakti Dham, Mangarh,  Prem Mandir located in Vrindavan Dham, and Kirti Mandir located in Barsana Dham. Shri Maharajji also built hospitals for the impoverished, the Jagadguru Kripalu Chikitsalaya in Vrindavan, Jagadguru Kripalu Chikitsalaya in Barsana, and another one in Pratapgarh. All three help millions of underprivileged to gain free access to medical care. His Kindergarten, School, and College for impoverished girls Jagadguru Kripalu Parishat Education is located in Kunda and provides completely free education.
The 92 year old life journey of Jagadguru Shri Kripalu Ji Maharaj can be termed as 'The Golden Era of True Devotion.' We celebrate this on his 100th Centenary, while reflecting on some of the innumerable ways Shri Maharaj Ji made remembrance of Shri Radha Krishna the focal point in the lives of ordinary people throughout India and the world. In truth, however, this golden era of devotion began the very moment he appeared on this Earth in the year 1922, on the auspicious full moon night of Sharat Purnima.
Right from childhood, little Ram Kripalu instilled chanting the names of God into the hearts and minds of all his friends around the village, while his loving mischievous nature forcibly attracted all those senior to him. His brilliance as a student amazed his teachers, taking him out of Mangarh when he was just thirteen years old, under the guise of furthering his education, only to grace his soon-to-be devotees with his divine presence, wisdom and love. Who could have predicted that within a mere twenty-two years, his crusade of love and devotion would become a bona fide spiritual revolution, when in 1957, India's highest assembly of Vedic scholars – Kashi Vidvat Parishat – simply bowed their heads before this remarkable young man.
All throughout this period, and the 56 years that followed, Jagadguru Shri Kripalu Ji Maharaj gave himself relentlessly and selflessly for the spiritual welfare and upliftment of all people. The bountiful supply of authentic spiritual teachings he has left us, together with the advancements in modern technology, ensures his bhakti mission will continue to flourish, shining forever brightly in the hearts and minds of more and more people throughout the world. He is an eternal guide and the Vedic knowledge revealed by him is also eternal, and therefore this golden era of devotion will continue till eternity, reminding all of the herculean effort of our great master, his journey of dedication, devotion and consecration.
Countless salutations to such a great Spiritual Master, who not only guided humanity towards their true goal throughout his lifetime, but continues to do so today, even without his physical presence. Finding his teachings, one need not search anywhere, anymore for spiritual knowledge, for spiritual upliftment nor for the guidance of a Spiritual Master. He revealed the essence of the Vedas and other scriptures in untold ways to guide all humanity. His spiritual discourses, his writings and his devotional compositions remove the darkness of ignorance. To further his mission of the propagation of devotion, he also established three indelible monuments in India, Bhakti Mandir, Bhakti Dham, Mangarh, Prem Mandir, Vrindaban Dham and Kirti Mandir, Shri Barsana Dham. These beautiful temples glority devotion and divine love through the practice of bhakti yoga in the form of sankirtan followed by loving meditation (rupadhyana).
Shri Maharaj Ji began his incredible journey from the woods of Brahmand Ghat, culminating today in making aspirants peacefully practise devotion in air-conditioned halls. In 1964, the first devotional retreat took place in Brahmand Ghat under the canopy of the sky amid the green lush trees of Braja, abounding with chirping, hopping birds. With no carpet and no facilities, devotees remained intoxicated all the time singing the glories of the names, forms, qualities and pastimes of Shri Radha Krishan. The sacred River Yamuna was there for them to bathe in and to drink its water.
Two years later, in 1966, the first devotional retreat was conducted in Mangarh by erecting a makeshift canopy across walls of what would become Sadhana Bhavan in 1968, the first-ever meditation hall in Mangarh. The foundation stone was laid in 1965 for a hall 80 ft long and 40 ft wide that would seat 400 devotees. The Jagadguru himself, with his handful of dedicated devotees did all the physical seva working alongside the labourers. Just imagine his humility, his enthusiasm and the idealistic attitude of this true karmayogi and his immense love for his devotees. Who can ever be like him? Sadhana Bhavan was inaugurated during Navaratri celebrations on 14 October 1966. Thirty consecutive sadhana programmes took place inside from 1966 to 1996.
Very soon, Sadhana Bhavan was too small to accommodate the surging crowd of devotees, and so Shri Maharaj Ji commenced planning for the construction of a larger hall adjacent to it. On 6 December 1995, the foundation stone was laid for a 150 ft long and 50 ft wide sadhana hall that was inaugurated during Dussehra celebrations on 11 October 1997, given the name Satsang Bhavan. All spiritual aspirations and ambitions come to an end in the endless glory of the great divine master of this age, Jagadguru Shri Kripalu Ji Maharaj.
But his name and fame was spreading so quickly that aspirants from all walks of life thronged to relish the nectar of divine love bliss, freely distributed by him through the singing of his devotional songs. The sankirtan and sadhana, together with his unique spiritual discourses revealing the unprecedented and unlimited knowledge of the scriptures was so unique and special that people from all provinces of India, as well as foreign countries, were fascinated to participate.
Anticipating the need once again, this great master resolved to construct Bhakti Bhavan, laying the foundation stone for a huge circular hall on 27 February 2009 with a diameter of 270 ft which was able to seat more than 10,000 people at a time. This majestic dome-shaped hall was inaugurated by Shri Maharaj Ji on 29 October 2012 and continues to immerse devotional aspirants in the special bliss of divine love. Thousands of people come every year and drape themselves in yellow shawls carrying the inscription "haraye namah, gurave namah," – "I surrender to God. I surrender to my Guru with all my heart." Ending all barriers imposed by cast, creed or race, wherever your eyes go, you will read only the divine name of God, and that too, in Shri Maharaj Ji's own handwriting.
His three learned daughters, Sushri Dr Vishakha Tripathi Ji, Sushri Dr Shyama Tripathi Ji and Sushri Dr Krishna Tripathi Ji are propagating his message of love by following in the footsteps of their great father. They are carrying forward his legacy of love and devotion. In one voice, they say that he is not only our father; He is the father of the Universe, of all the animate and inanimate and the object of all worship, being greater than the greatest. The greatness of Jagadguru Shri Kripalu Ji Maharaj lay in his extraordinary simplicity and innocence, immersing his followers in the ocean of divine love by all means and by all methods. His philosophy is the revelation of Vedic wisdom, accessible to all castes and creeds according to modern times. People of all faiths and cultures will find in him the form of their object of worship. Today, his devotees still feel and experience his divine presence through his timeless teachings and so it is appropriate to say in conclusion that this Era of True Devotion will continue till eternity……